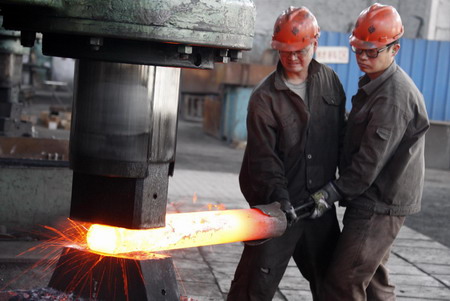 Workers process a steel bar at a mill in Huaibei, Anhui province. [Wu He / For China Daily] 
Profit outlook for July still remains bleak despite sporadic rebounds
BEIJING - Falling steel prices will continue to cloud the profit outlook for domestic steel mills in July, but there are indications that the tide will change over the next few months, a top official from the China Iron & Steel Association (CISA) said on Tuesday.
"China's 77 large and medium-sized steel companies reported combined profits of 6.25 billion yuan ($922 million) in June, down nearly 40 percent from 10 billion yuan in May, " said Qi Xiangdong, deputy secretary-general of CISA.
"The situation in July could be even worse, but it might change in August as the market is already seeing sporadic price rebounds."
Production cutbacks by the steel mills have helped boost prices after 20 companies hiked product prices by 30 yuan to 200 yuan per ton last week.
"We should not be pessimistic about steel prices in the coming months as the global economy will continue to recover and the nation's macroeconomic polices may see changes," he said.
Domestic steel mills started cutting product prices in June, signaling a market adjustment due to weak downstream demand.
Most of the big steel mills, like Baosteel and Wuhan Iron & Steel cut August prices by 5 percent to about 300 yuan per ton from July.
Average steel prices in China peaked the most in April since August 2009. But steel prices began to fall after the government released its macroeconomic polices to control property prices, part of the nation's efforts to slow gross domestic product growth, which eased to 10.3 percent in the second quarter from 11.9 percent in the first.
Steel production in China reached a four-month low due to weak demand from real estate companies and the automobile industry.
Related readings:


 Steelmakers to see new low in profits in July


 Steel industry may sell inventories for a steal


 Severe overcapacity in China's stainless steel industry


 Big steel firms won't switch to spot market-Baosteel
The nation produced 53.77 million tons of crude steel in June, down 4 percent from 56.1 million tons in May.
During the first 10 days of this month, daily steel output fell to 1.69 million tons, according to steel lobby CISA.
Most of the steel mills will incur losses in July due to higher raw material costs and falling product prices, said Zhang Xiaogang, chairman of Anshan Iron & Steel Group.
The government's decision to end the steel rebate from the 15th of this month will put further pressure on the mills.
"It will force more mills to cut production, with construction steel products and hot-rolled products filling the breach, " Zhang said.
Steel production cutbacks have also contributed to a fall in iron ore prices this year.
Iron ore prices have dropped to about $122 per ton, after peaking to $185 per ton in April.
China's iron ore imports dropped for a third straight month to 47.2 million tons in June.