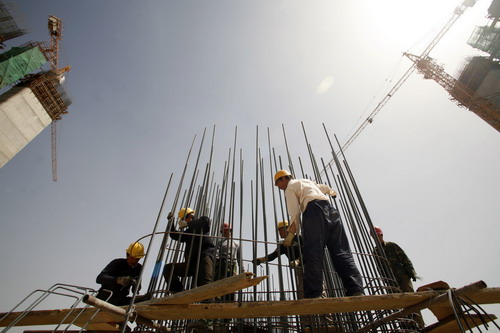 Workers use rebar to build a support pillar for a highway bridge near Zhongwei, Ningxia Hui autonomous region. The region reported the nation's fourth-highest gross domestic product growth rate of 17.1 percent in the first half of this year. [Qilai Shen / Bloomberg]

Central, western regions' figures well in advance of more developed areas
BEIJING - Most provinces and regions in China reported first-half gross domestic product (GDP) growth exceeding the national level, with less-developed central and western regions generally outperforming the nation's more economically advanced areas. [Full Covergae]
However, experts said this was evidence that the country is still on the old investment-driven track and needs to make greater efforts to fulfill economic restructuring.
Related readings:


 China GDP up 11.1% in 1st half of 2010


 IMF raises China's 2010 GDP projection to 10.5% 


 HKU raises GDP growth forecast to 5.8%


 NBS ups 2009 GDP total, growth rate

As of Sunday, more than 20 provinces, municipalities and autonomous regions had published their GDP growth figures for the first half, all of which were above the national level of 11.1 percent.
Analysts suggested that government unify provincial and central GDP calculation methods as soon as possible and that local officials' performance should no longer be judged by local GDP growth in order to resolve statistical inaccuracies.
Tianjin led the list with a GDP growth rate of 18 percent in the first half, and Chongqing ranked second. The booming southwestern metropolis was also the first among western regions, with a record-breaking economic growth of 17.6 percent.
Shanxi province in North China jumped to third place from the bottom of last year's list with a growth rate of 17.5 percent.
Ningxia Hui autonomous region ranked fourth on the national list with GDP growing by 17.1 percent, and the figures for Inner Mongolia autonomous region and Sichuan province were expected to be above 16 percent. Hubei and Hunan provinces both reported economic growth rate of more than 15 percent, and Jiangxi achieved 14.4 percent growth, the highest in the same period since 1995.