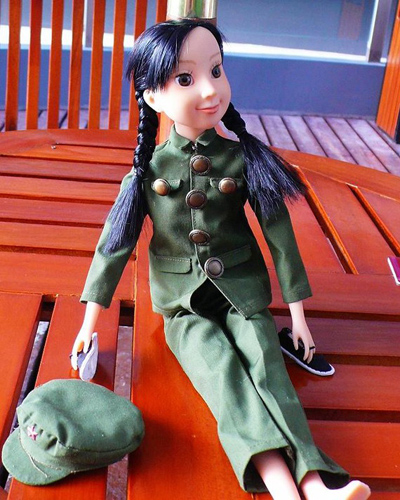 A Zhiqing Fisimi doll represents the phenomenon from the 1950s to the 1970s when educated urban youths gave up school to work in the countryside and experience the tough rural life. [Provided to China Daily] 
Another difficulty Ju's team encountered is the diversity within individual ethnic groups. For example, there are more than 2,000 kinds of robes that Tibetan people from different areas wear in their daily lives.
Ways of wearing the robes also differ according to occasion and status.
Ju and her partners decided to choose only the most typical details and to encourage people to explore more for themselves.
"All this attention to detail with the Fisimi dolls is to demonstrate culture and also the spirit of the country," Ju said.
Wearing confident smiles, the ethnically varied dolls present a cheerful and simple image.
Ju said the face of the Fisimis was very different from previous images of beautiful but shy and conservative Chinese girls such as the cartoon character of Hua Mulan or females featured in Zhang Yimou's films.
"Most of my foreign friends are happy with the lovely face with its big eyes and bright smile and it reflects a real picture of Chinese pretty girls nowadays," she added.
Related readings:


 Barbie doll to celebrate its 50th anniversary Monday

 Barbie doll at the International Toy Fair


 Hong Kong Toys and Games Fair


 87.5% toys meet requirements on domestic market
The Fisimi doll was developed and manufactured by a Chinese enterprise in Chinese plants based on Chinese culture, but Ju also co-opted an international group to work on the design.
Ju said it represented the inclusiveness of Chinese culture. "The eyes of the doll are made in Germany and the hair is made in Japan. We use the best available international resources to create a top Chinese brand," she said.
So far, Ju and her team have manufactured Fisimi dolls representing 30 ethnic groups. Each costs from 1,000 to 3,000 yuan. The other 26 types of doll are due to come out within the next three years.
Some people bought the dolls as gifts for their important clients and they have also been included in the gift list of the Ministry of Foreign Affairs, said Ju.
In addition to ethnic groups, the company also created another category called the Fans Limited Edition in which dolls are dressed in different styles such as brides and flight attendants.
Compared with her previous job in which she used to manage five to six big projects, Ju says she now just has to manage two at the same time.
"Luckily, I have partners and many business friends who are willing to help and offer support in many ways and take Fisimis to various events," she said. "There will be a collecting craze for Fisimis."