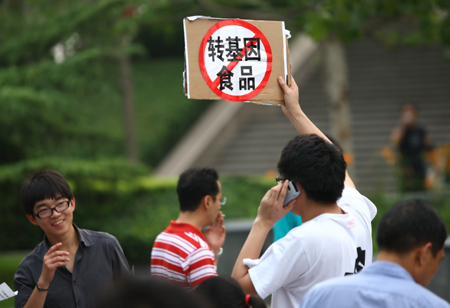 A young man raises a placard that reads "No genetically modified (GM) food" outside a supermarket in the Zhongguancun area of Beijing on Sunday to protest against some factories promoting GM food. [China Daily] 
Beijing - China's national grain reserves may be polluted by genetically modified (GM) rice after tainted rice was discovered in Central China's Hubei province, Greenpeace representatives warned on Tuesday.
Lorena Luo, a food and agriculture specialist with non-governmental environmental organization Greenpeace, said its monitors found three distinct GM-positive rice samples produced in 2007 by two grain processing companies in the Hubei capital of Wuhan.
Related readings:


 Greenpeace worries GM rice about to be planted


 Hope vs anxiety for GM rice

 Central China province refutes GM rice accusation


 GM grain still 'long distance away'
"In April, we bought three rice samples weighing 1,200 grams in Wuhan - all of which has been tested as GM at a qualified lab in Hong Kong," Luo told reporters on Tuesday.
The test results indicated the rice was developed from one of the two strains of pest-resistant GM rice, which was cultivated by the Wuhan-based Huazhong Agricultural University and was issued with bio-safety certificates by the Ministry of Agriculture last August.
Luo, however, declined to name the Hong Kong-based laboratory.
"Most grains in our company were coming from nearby State-owned grain depots as well as the national grain reserve," an unidentified worker at the Guocheng Rice Company, one of the two companies with the tainted rice samples, testified in a video provided by Greenpeace.
"If true, the report will be a serious problem, as GM rice in the national grain reserves could spread into other places," Lu Bu, a researcher from the Institute of Agriculture Resources and Regional Planning at the Chinese Academy of Agricultural Sciences, told China Daily on Tuesday.
According to regulations governing the administration of central grain reserves issued in 2003, China will annually rotate 20 to 30 percent of its total central grain reserves based on domestic supply and demand.
"It is very likely that the rice produced in 2007 will soon be rotated, as it will soon be past its due date," Lu said. "For instance, some may be sold to local flour mills."
In addition, since grain reserves are usually conserved for famines and other disasters, some of the rice may have already been sent to drought and flood-stricken provinces this year, he said.
The Ministry of Agriculture would not comment on the Greenpeace report on Tuesday.
In March, however, ministry officials sought to dispel these concerns, saying "there is no commercial planting of GM food crops in China now".
Contrary to these assertions, Luo said, other illegal commercial planting cases have also been recorded in a number of different provinces in recent years, such as in Hunan and Jiangxi.
In May, for example, agricultural bureau officials in Hunan province tracked down 1.5 tons of GM rice.
"The government has, apparently, not taken strict measures to crack down on the planting of GM rice," Professor Jiang Gaoming, of the Institute of Botany at the Chinese Academy of Sciences, told China Daily.
"Farmers always have no idea about whether they are planting GM rice or not," he added. "Therefore, the government has to strengthen its control of GM rice seeds from the start."