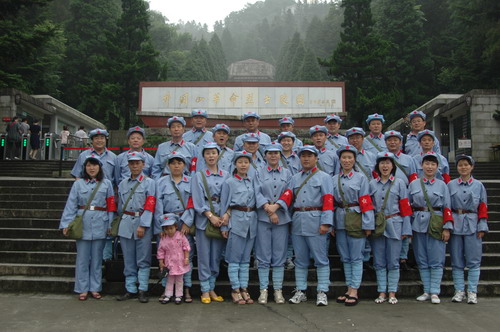 Trainees from Beijing Huashang Institute of Management take a group picture at Jinggangshan cemetery during a study tour. [Provided to China Daily]
Maoism was an irrelevant concept for Liu Songlin, son of an established businessman in Jilin province until he started his own business and systematically studied how to incorporate the thoughts of the military strategist and Chinese leaders into operating his business.
Like many affluent second generation entrepreneurs, the 29-year-old, who now runs his own consulting company, said he was rebellious and confused when he was younger. But he said Mao Zedong helped him set directions in life and run a business.
"I grew up in a rich family. Money was never an issue, but I lacked motivation," he said.
"I learnt from Chairman Mao's personal experience that pursuit of excellence was vital and to never care only for my interests," he said.
Since the credit crunch in 2007 in the United States and the following worldwide financial crisis, courses such as Western economics and Western management have become a rare thing at business schools and, instead, Maoism is back on the books.
Maoism is a variant of Marxism, derived from the literatures of Mao Zedong and is widely applied as the political and military guiding ideology in the Communist Party of China (CPC).
Peking University, Beijing Huashang Institute of Management (BHIM) and Jucheng China all offer courses in Maoism.
Each class of 60 to 200 second generation of entrepreneurs normally goes to Jinggangshan, where Mao established the People's Liberation Army of China to study and experience the hardship of the beginning of Chinese revolution.
Related readings:


 China remembers Maoist model soldier


 Institute to teach officials crisis management


 Management and care urged after Foxconn suicides


 Modern business management with Chinese wisdom

When Chairman Mao was establishing the People's Liberation Army of China, he was short of talent, money and experience, putting him in a somewhat similar situation to many entrepreneurs trying to set up their own companies, said Yuan Qingpeng, director of BHIM, which was the first school in Beijing to introduce Maoism management classes.
He said Mao made great achievements because he believed in unity of thought, executive ability, democratic management, scientific organization structure and cultivating talent, all of which are applicable to successfully operating a company.
"If a company wants to develop in China, it has to adapt to the country's culture. Mao's thought is deeply rooted in Chinese people's mentality and culture," he said.
Mao's military tactics and philosophy are also useful for a company's development, according to Yuan.
Changbaishan Wine Group attempted to penetrate into first-tier cities in China such as Beijing and Shanghai, but failed, said Yuan. Then the company switched its focus to second-tier cities such as Qinhuangdao and Chengde. The alcohol was well-accepted in the small cities and eventually won customers in big cities.
"It is similar to Mao's theory: using the rural areas to encircle the cities," he said.
"If you can't directly conquer clients in major cities, take an alternative way."