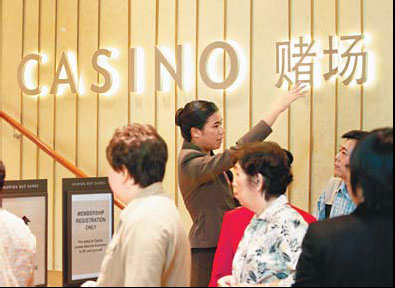 An employee ushers visitors to the casino during the grand opening of Las Vegas Sands Corp's Marina Bay Sands resort and casino in Singapore. [Charles Pertwee / Bloomberg]
BEIJING - Casino operators just love Queenie Liu, the queen of the tables.
The 30-year-old Shanghainese is no stranger to high stakes and spends $15,000 on average when she rolls the dice - at the expense of her high net worth husband who doesn't share her passion for gambling.
"It's the excitement that I crave for. It's exhilarating. For me, it's not the money," she told China Daily in a telephone interview from her holiday home in Vancouver.
Queenie is one of the VIP gamblers at the casinos in Macao, Malaysia and Las Vegas. She now plans to visit the two new casinos in Singapore - Marina Bay Sands (MBS) and Resorts World (RWS). "Fortunately or unfortunately, most of the big gamblers are of ethnic Chinese origin," she said.
Casino operators from Singapore, Malaysia and Cambodia are getting ready to make hay from the surge in outbound tourists from China.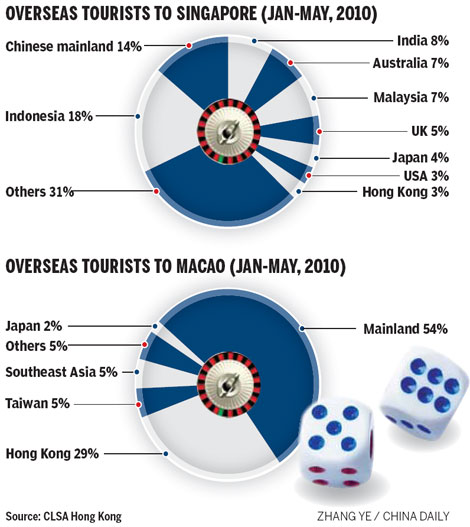 So much so, that most of the operators are now wooing tourists through indirect sales and promotional activities routed through operators of group tours or junkets.
The companies have to use the indirect method to increase footfalls as marketing of casinos and gambling are illegal in China, said Ben Lee, Chief Operating Officer - Gaming at Intercity Group. Intercity Group is planning to set up a $400 million integrated resort and gaming property in Siem Reap, Cambodia. "The biggest players in the region tend to be from China," he said.
"Junkets get higher commissions in Singapore as gaming taxes are much lower at 12 to 22 percent versus Macao at 39 percent," said Aaron Fischer, Head of Consumer and Gaming Research at CLSA Asia Pacific Markets. Junkets are also a big incentive in luring gamblers to Singapore.
"With its growing middle class population, China is an attractive market for us. We consciously cater to the needs of Chinese guests, from the way they like to be greeted to the way they like their food served," a spokesperson from Marina Bay Sands told China Daily.
Genting, Asia's largest listed casino operator and owner of Resorts World Singapore (RWS) and Genting Casino, said it is on track to achieving its target of 13 million visitors in its first year of full operations by February 14, 2011. It has given out $100,000 in jackpot prize money alone.
Related readings:


 Macao June casino revenues see 20% m-o-m decline


 Casino operators see slower growth


 Macao's casino revenue said to double to $2.12b in May


 Singapore opens 2nd casino in big bet on Asia


 Wynn Encore casino and hotel opens in Macao
Businesses are betting that the economic growth in China and the region would boost demand for shopping, entertainment, gambling and tourism.
Singapore expects the MBS and RWS casinos to generate spin-off businesses such as demand for luxury services and more deals for bankers in what is fast becoming Asia's premier wealth management center.
Casinos in Singapore and Malaysia are successful without taking the market share from Macao, said Fischer. "Casinos in Southeast Asia offer variety. Also, visa restrictions do not apply to individual mainland Chinese travelers visiting Malaysia and Singapore when compared to Macao," he said.
Chinese are allowed to travel to Macao once in two months. In addition, Chinese government officials are not allowed to gamble in Macao but they can visit Singapore, Malaysia or Cambodia.
While Macao is seen as a pure gaming destination, casinos in Southeast Asia have the additional attraction of combining business with gambling.