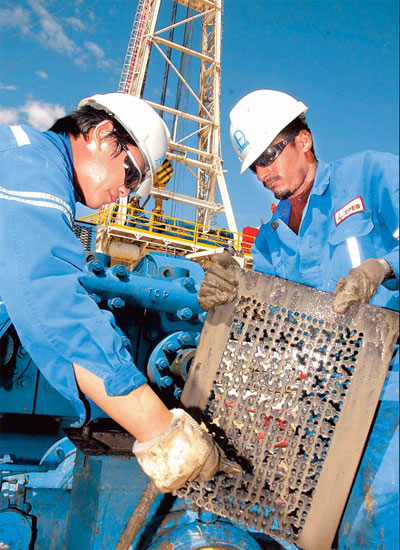 Workers doing maintenance work at an oil field in Yemen. Last year, China's overseas direct investment in non-financial sectors surged 6.5 percent year-on-year to $43.3 billion. [Hu Qingming / for China Daily]
BEIJING - The government will soon come out with environmental protection guidelines for domestic companies planning overseas investments, ministry officials said on Thursday.
According to experts, the guidelines will enhance the nation's "soft power" in the global arena and foster more investment deals.
Domestic companies that have overseas operations will have to take adequate steps to protect the environment and shoulder more corporate social responsibility (CSR), they said.
The new rules will help improve the quality of overseas investments and are called Chinese Overseas Direct Investment Environment Protection Guidelines, said Yang Zhaofei, director-general of the Department of Policies, Laws and Regulations under the Ministry of Environmental Protection.
The commerce and environment protection ministries and the China Banking Regulatory Commission are also involved in drafting the guidelines.
The rules will include other factors like the evaluation of environmental impact, agreed protection mechanism, compensation and CSR, said Yang without revealing a timeframe for the guidelines.
"Companies that violate the rules will have to pay for their actions, and in some cases stop overseas investments," he said.
The government move comes at a time when Chinese companies have been accused by the foreign media of going ahead with investment plans without considering the impact on the local environment and communities.
"Objectively speaking, there do exist cases that have caused damage and tarnished the reputation of Chinese overseas enterprises. Therefore, there is an urgent need to standardize overseas investments and improve quality," said Zhang Lijun, director of the Department of Asia Affairs under the Ministry of Foreign Affairs.
"The overseas performance of domestic companies reflects the image and influence of the Chinese government, and is also an important indicator of the nation's soft power," Zhang said at a forum on environmental policies in Beijing on Thursday.
Related readings:


 More sops for green cars


 Subsidies set to spur green car development


 Beijing donates green energy buses to Moscow


 China to take lead in utilizing green technology

Though a draft proposal was submitted to the Chinese government some time back, negotiations among the concerned ministries are still ongoing.
"It is really difficult to make everyone happy about the guidelines, and there are many uncertainties," said Ge Chazhong, a researcher at the Chinese Academy for Environmental Planning under the Ministry of Environmental Protection.
China must have rules to guide and standardize overseas investment, he said.
The global economic crisis has not dampened the overseas investment confidence of Chinese companies. Last year overseas direct investment in non-financial sectors surged 6.5 percent year-on-year to $43.3 billion. Prospects for this year are also bright, with the Ministry of Commerce expecting overseas direct investment to touch $60 billion.
Most of the overseas direct investment has been in Asia, Africa and Latin America, in manufacturing, wholesale, retail and commercial sectors. Mining and resource-related sectors are also emerging as a new investment focus for Chinese companies.
But along with the growth, there have also been complaints that some investments are not green and socially responsible.
"Many foreign nations are prejudiced against China and its investments. On the one hand, they want more Chinese investment, but at the same time are probably not comfortable with the nation's growing prowess," said Zhang.