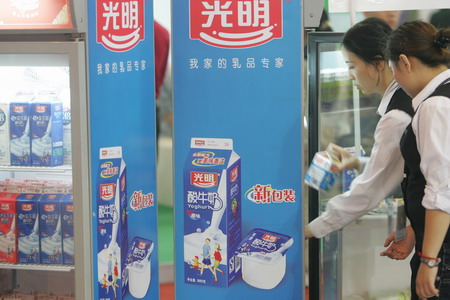 Bright Food will focus on overseas mergers and acquisitions in regions such as South America and New Zealand in the next few months. [Gao Yuwen / for China Daily] 

Bright Food beaten out by Wilmar International for sugar division
BEIJING - Shanghai-based Bright Food Group, China's largest food company, is still gung ho on exploring overseas acquisitions despite its failed bid for Sydney-based CSR Ltd, the world's leading sugar producer.
Bright Food's spokesperson, Chen Chunshan, made the remarks on Tuesday after the company was beaten out by Wilmar International Ltd, for CSR's sugar unit, Sucrogen.
Wilmar International, the world's largest palm oil trader and a Singapore-listed company, announced on Monday it agreed to purchase CSR's sugar unit for A$1.75 billion ($1.48 billion), A$100 million higher than Bright's previous offer.
The deal will be completed in the last quarter of this year.
Related readings:


 Wilmar to buy CSR's sugar division for $1.5b


 Foreign giant eyes Chinese grain market


 Australian delays approval of China-CSR sugar deal


 Bright Food still interested in Aussie sugar deal
"We will continue to expand our business through mergers and acquisitions overseas as we believe there will be a lot more attractive deals ahead thanks to the financial crisis, although we still regret the failure of the CSR bid," said Chen.
But "the key is, Bright Food doesn't want to pay for any deal that is unaffordable for us, either now, or in the future", he added.
Early in January, Bright Food offered to purchase Sucrogen at a price of A$1.5 billion, and in April raised its initial offer to A$1.75 billion, but the company on July 2 announced to cut the non-binding bidding down to A$1.65 billion.
Ge Junjie, deputy general manager of Bright Food Group, declined to comment on why the company changed the price at the last minute for the deal.
"The A$1.75 billion is definitely much higher than what a State-owned company like Bright Food can afford, although we would love to buy the sugar unit of CSR," said Chen.
"The CSR failure is not necessarily a bad thing for Bright Food. Actually, there are many attractive deals (around) both at home and abroad," said Huang Wei, chief food and beverage analyst from Citic Securities.
"Purchasing domestically is less risky than overseas."
Ge told China Daily in early March the company will focus on mergers and acquisitions overseas, in regions such as South America and New Zealand, in the next few months.