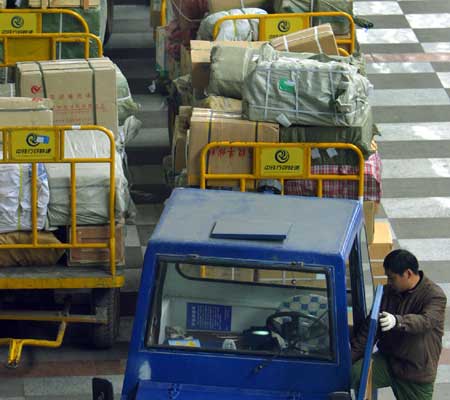 A workers loads packages at the Nanjing Railway Station. China's express business is expected to grow at 23 percent annually over the next five years. Yang Duoduo / for China Daily
Beijing - Large logistics consortiums are likely to emerge in China in the next five years as the country's logistics industry moves towards higher consolidation, according to a report by management consulting firm A.T. Kearney.
Consolidation will come as a result of continued economic growth, infrastructure development, growing domestic consumption and foreign trade, according to the industry outlook report from A.T. Kearney.
China's logistics industry, which is still in the early stages characterized by fragmentation and intense competition, will undergo major consolidation in the next five years, stated the report.
It also said companies might shift from "scale growth" to "value growth" in order to be "bigger and stronger".
The integration will encompass horizontal and vertical consolidation, meaning consolidation within the same segment and across industries.
"Consolidation within a segment will alleviate overcapacity in the industry while a vertical integration helps to provide better service," said Li Jian, manager of A.T. Kearney China.
China's express business is expected to grow at 23 percent annually over the next five years, reaching 129.2 billion yuan ($18.96 billion), according to the report.
But there are few acquisitions happening within the business now mainly due to "operational risks", said Wang Xin, principal of A.T. Kearney China. "Their networks are partly overlapping and even those fast-growing logistics companies lack sufficient funds for mergers and acquisitions."
The report also predicted that higher network coverage and density will be a future trend in the logistics industry.
Related readings:


 PE firms eye rich harvest in agricultural logistics


 German logistics firm building bridges to European auto markets


 China's logistics industry recovers quickly


 China's carbon reduction goals call for modern logistics
Network coverage will expand towards western and northern parts of China, while the traditional networks only focus on three major economic clusters, the Pearl River Delta, the Yangtze River Delta and the Bohai Rim regions.
Expansion is largely a result of the central government's policy to encourage economic development in the western region and huge investments in railways, roads and expressways in the region, the report said.
Meanwhile, a worldwide target towards a low-carbon economy poses new challenges to the current cost structure of the logistics business.
Various low-carbon initiatives launched by the government in the transportation system will challenge logistics-company cost structures. For example, carbon emission taxes will translate into cost pressure for these companies and the government will encourage transportation models that produce less emissions.
"Cost controls, therefore, are always the key for sustainable growth in the logistics business," said Wang.