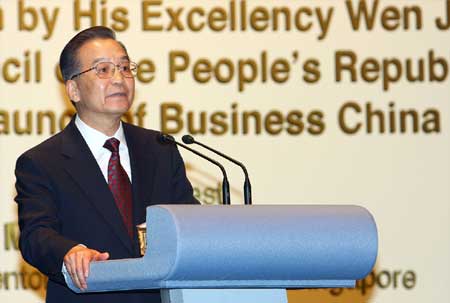 Wen Jiabao, China's premier, delivering a speech at the National University of Singapore three years ago. China's policy of encouraging a select few of its officials and entrepreneurs to return to education in a world-class environment is paving the way for an increasing number of Chinese bureaucrats and executives of State-owned businesses to study at the prestigious Lee Kuan Yew School of Public Policy at the Singapore university. Jonathan Drake / Bloomberg
Going back to the classroom opens minds to new ways of problem-solving
BEIJING - What does a government do when it realizes that it's caught between rapid development and inadequate skills and knowledge among its chosen officials at a time when it is a key player on the world stage?
China's solution has been to encourage a select few to return to school in a world-class environment and later tap into their acquired skills and knowledge.
At the prestigious Lee Kuan Yew School of Public Policy (SPP) at the National University of Singapore, enrolment figures by Chinese bureaucrats and executives from State-owned enterprises are climbing steadily.
It's not mere coincidence. Rather, China views favorably Singapore's success in its transformation from industrialization, urbanization, globalization to a knowledge economy through social, political, economic and religious sophistication including its confidence and maturity in blending qualities from the East and West. It is proving to be a good decision to send its officials and executives to study the Singapore model.
Chasing the dragon
Sending officials back to the classroom abroad is seen as more important now than before. Anthony Saich, director of the Ash Center for Democratic Governance and Innovation at Harvard University, who is also involved in training programs for national and local Chinese officials, says it is important for Chinese officials to become more global in their outlook.
"But it is equally important for those outside China to understand better China's development and the perceptions it has about development, global trade and global security," he said.
While China can learn best practices from abroad, however, what is most important is that the country finds its own path to modernity, says Saich who is also a Daewoo professor of international affairs, director of the Rajawali Foundation Institute for Asia and faculty chair of the China Public Policy program.
"China can learn from outside but those lessons have to fit well with China's own culture, history and institutions," he said.
The country is both internally and externally more global than 10 years ago. It is more literate and confident in global affairs, as the world is with it, he added.
"More Chinese influence is taking shape in global affairs such as introducing Africa as part of the global supply chain and these developments require Chinese intellect and implementation on a broader scale than before," says Chris Devonshire-Ellis, founder of business advisory and tax consultancy firm Dezan Shira & Associates.
These days, returning to school for Chinese officials is made easier by Singapore's educational institutions such as SPP that doles out scholarships annually to attract eligible individuals. More than half of the Chinese officials and executives studying at SPP are sponsored by the school.
At SPP, 50 percent of the existing Chinese students, mostly male, are at the rank of director-general in their respective departments, and have management and decision-making responsibilities. Their average age is 42, says Chen Kang, associate professor at SPP.
Being away from familiar surroundings, work and their families, they are required to learn, relearn and, in most instances, discard their notions on various matters including leadership and management, the global business environment, international law, communication, infrastructure, public management practices and foreign direct investment.
Lessons aside, there are opportunities to participate in conferences or speeches by global leaders in politics and business and dinners and networking events.
"It has been an eye-opener and a profound way of thinking and viewing the world," said 42-year-old Wen Quan, referring to his experiences as a student and observer in Singapore during a phone interview from the island nation.
He is on study leave from his work as the director of the International Center at China Foreign Affairs University in Beijing. Alongside his one-year postgraduate program in public policy at SPP, he is attached to the Council of Private Education under Singapore's Ministry of Education.
The attachment will allow him to observe and form ideas for strategic development to improve China's thriving private education sector when he returns home.
In addition, the SPP postgraduate program also allows him four months of study at Harvard University, thanks to collaboration with the National University of Singapore.
Imminent change
Noting an increased interest in obtaining higher learning by the Chinese in recent years, SPP launched three months ago a new Master of Public Administration and Management program conducted fully in Mandarin. At present it has 55 Chinese officials and executives enrolled in the program, says Chen.
While the Chinese students are clearly more informed than those 10 years ago, he says the main problem remains: Many government officials and executives have been assigned to certain jobs without the experience or background to support their work, especially in the areas of business and economics.
"Our duty is to create a well-rounded student from our faculty with strong Asian experiences. We expose the Chinese to analyses, different economic systems, cost benefit accounting, enhanced management and communication skills and so forth," says Chen.
"Clearly they can't get such experiences and exposure if they remain at the Party's school and are required to work at the same time. But here, they are in seclusion and they are put through a rigorous and stringent curriculum."
The single, biggest challenge most of these Chinese officials and executives will face when returning to China is how best to integrate their newly acquired knowledge according to local conditions and turn it into solutions to solve issues - internal and external - in their respective jobs.
The changes that China is experiencing are the most drastic in its history, says Wen Quan. "The training and experiences from Singapore should not isolate us from our colleagues or friends. In fact, we should participate in the changes, improvise and assimilate our skills at work. Staying in one place for too long without a constant renewal of knowledge will result in a narrow mindset."
Related readings:


 Forty-six US business executives to visit China


 Fiji business executives to travel to Shanghai for Expo


 Higher threshold for senior insurance executives


 China's SOEs' executives' salaries to be regulated
"Change takes time. Change is also unsettling. Those who claim he or she could make a huge change upon his or her return home is either immature or unrealistic," he says.
He says he is inspired by Singapore's affordable public housing scheme, a caring and innovative pension fund and continuous investment in learning.
Borrowing from Singapore's Minister Mentor Lee Kuan Yew's objective in managing the country, he said: "In Singapore, they think of results, productivity, efficiency, human development, and they take long-term views."
Contradicting a popular belief that some of these officials and executives are having fun as students, Wen has this to say: "We look pale due to lack of sleep and sunlight. To give you an example, we were made to write an 8,000-word essay, including a presentation and group work, in two weeks. "