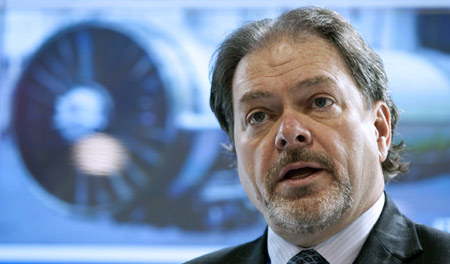 Robert Keady, vice-president of Pratt & Whitney, said the company is devoting more efforts to cooperate with local partners.
BEIJING - Pratt & Whitney, a leading aircraft engine manufacturer, said it is discussing the manufacturing of its latest engine components in China with the country's largest aerospace company Aviation Industry Corp of China (AVIC).
"We are currently in discussions with AVIC to expand the capacity and scale of engine component manufacturing in the country," said Robert Keady, vice-president of business development & marketing for commercial engines and global services.
China, as one of the world's fastest-growing aviation markets, offers more and more market opportunities, according to Keady.
The Connecticut-based engine maker is likely to have some of the components of its latest model - PurePower PW1000G - manufactured in China while "assembly will depend on our customers", said Keady.
PW 1000G, the latest energy-efficient engine model which is estimated to save $1.5 million per aircraft annually, is now used in the Mitsubishi Regional Jet and Bombadier CSeries Aircraft and will enter the market in 2013, the company said.
China, with 1,400 aircraft, has become one of the fastest-growing aviation markets, eclipsing Japan as Asia's largest, according to the latest figures from the International Air Transport Association.
Eyeing the burgeoning market, Pratt & Whitney is devoting more efforts to cooperate with local partners. It is also in discussions with 17 Chinese airlines including Air China, China Eastern and China Southern on further cooperation in the application of its latest engine, according to Keady.
"We are also talking with the Commercial Aircraft Corp of China (COMAC) on supplying components for its C919 commercial aircraft," Keady said.
COMAC is currently developing the C919 jumbo jet, China's first self-developed large commercial aircraft, which will compete with Boeing's B737 and Airbus' A320 and is expected to make its maiden flight by the end of 2014.
Related readings:


 China's Changan Auto to acquire AVIC's auto assets


 AVIC Aircraft to inject assets into arm for listing


 AVIC's sales revenue in auto business to reach $4.3b by 2017


 AVIC General Aviation scouts for stakes in foreign firms
The aircraft maker plans to sell more than 2,000 C919s over the next two decades, indicating a huge market for large components suppliers such as Pratt & Whitney and General Electric.
COMAC selected the Leap X engine by CFM International, a joint venture between GE Aviation of the United States and Snecma of France, to power the C919 at the end of last year.
GE Aviation, Pratt & Whitney's long-term rival, has already been selected as the engine provider for China's ARJ21 regional jet,.
Pratt & Whitney is the division of United Technologies Company for aircraft engines used in both civil and military aircraft. As one of the "big three" aero-engine manufacturers, it competes with General Electric and Rolls-Royce.
The company now has two manufacturing bases in China - Chengdu Aerotech Manufacturing Co and South Pratt & Whitney Aero Engine Company.