BEIJING - China's monthly passenger vehicle sales continued to decline in May, bringing the risk of a glut to vehicle producers after they aggressively expanded production capacity in response to last year's unexpected market boom.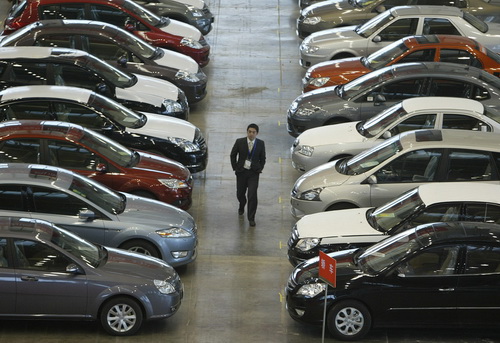 A salesman at a dealership in Nanjing, Jiangsu province. Brisk sales and insui cient supply last year made nearly all of China's automakers expand their capacities at the beginning of this year. [AN XIN / CHINA DAILY]
A total of 1 million cars, multi-purpose vehicles, sports-utility vehicles and minivans were sold in the nation in May, up 23.2 percent from a year earlier, the lowest rate during the past 13 months. The figure was down 5.9 percent from April, according to the China Passenger Car Association.
This is the third time so far this year that China's monthly passenger vehicle segment reported negative growth compared with the previous month.
This compares to domestic sales of 1.31 million in January, with a growth rate of 111 percent year-on-year.
Rao Da, secretary-general of the association, said that the sluggish stock and property markets had started to impact on auto sales, while the week-long production stoppage in Honda's parts plant due to a strike also ate into sales figures.
He predicted similar sales in June and said people should consider buying cars in the coming three months as automakers will launch promotions like price cuts to perk up their sales.
Hu Maoyuan, chairman of China's biggest automaker SAIC Group, said recently that he expected negative vehicle sales growth in the fourth quarter of this year, and cut his prediction for whole-year sales to 15.5 million units, with sales growth of 12.6 percent.
Related readings:


 2009 a year of milestone deals and record sales in auto market


 Beijing auto show set for record attendance 


 Growth in China passenger car sales slows in April


 China car prices slightly down in April from March
Industry analysts and automakers all previously predicted sales growth of 20 to 25 percent this year, buoyed by 2009's market boom. In 2009, automobile sales surged 46 percent to 13.6 million units assisted by a series of government stimulus measures, making China the world's biggest automobile market.
Brisk sales and insufficient supply last year made nearly all of China's automakers expand their production capacity at the beginning of this year.
According to plans released earlier this year, China's automakers will boost their production capacity by 5 million units in total this year, bringing domestic auto production for the whole year close to 20 million units, far higher than the expected sales of between 15 and 17 million.
Dong Yang, vice-president of China Association of Automobile Manufacturers, said in the first four months, China had an inventory of nearly 2 million.