Flaherty says China has major role in global recovery
BEIJING - Canadian Finance Minister James Flaherty said on Thursday that the time is right for governments around the world to start withdrawing economic stimulus measures, but admitted that the global recovery remains fragile.
He also urged China to continue to play an increasingly influential role in the global economic recovery.
Flaherty made the remarks during a media briefing in Beijing, before flying to South Korea for the G20 meeting of finance ministers and central bank governors.
"We are coming to a time when exit strategies from stimulus can start to be implemented... the global economy is experiencing some recovery, but it's fragile," said Flaherty.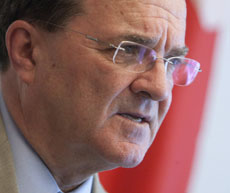 James Flaherty, Canadian Finance Minister
"As we work to ensure a fledgling recovery takes root, China's contribution will become even more important," he added.
Flaherty said Canada is opposed to the introduction of taxes or levies on banks, and has proposed "embedded contingent capital" as an alternative to a bank tax.
Speaking in Shanghai on Wednesday, Flaherty said he expects to see China adopt a more flexible stance on its foreign exchange rate policy.
"There was some flexibility in the Chinese currency before the crisis, and we anticipate that will return," he said.
Related readings:


 New actions needed to promote China-Canada ties


 Canada to boost trade links with China

 Yuan not for the taking


 Yuan target of greedy speculators
The currency revaluation issue is widely expected to be a key issue at the upcoming G20 meeting in Toronto, Canada, later this month.
Many Chinese economists predict the government will allow the yuan gain against dollar around the time of the G20.
Li Yining, a well-known economist, said at a recent forum that "China should quickly let the yuan rise by small margins to stem the growing flow of hot money into China as a result of market speculation on possible revaluation".
"The sooner (China conducts exchange policy reform), the better," said Fan Gang, director of National Economic Research Institute of China Reform Foundation.
And "if it happens, it should be implemented at a manageable and controlled pace", he said.