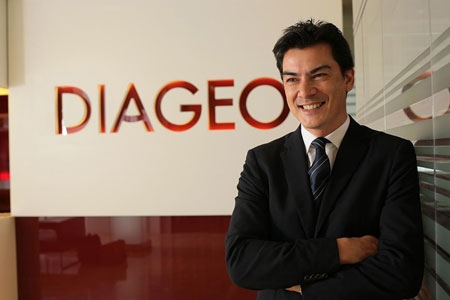 Lin Menuhin, CSR director of Diageo Asia-Pacific, said Diageo employee volunteers have visited Sichuan to help with the post-earthquake reconstruction. They will go to Gansu in July. Provided to China Daily
Drinks company Diageo puts the preservation of H2O at the top of its corporate social responsibilities list
BEIJING - Corporate social responsibility (CSR) for Diageo, a premium drinks company, is a very broad area with water featuring most significantly.
"Why water? Water is a universal need, a universal right. It's also incredibly important for our business," said Lin Menuhin, CSR director of Diageo Asia-Pacific, explaining that the company uses huge amounts of high-quality and clean water to produce alcohol. As such, conserving water and protecting the environment not only helps to protect the Earth and improve people's lives but also supports the sustainable development of Diageo.
Globally, London-based Diageo set a target to reduce the amount of water used to make each liter of its products by 30 percent between 2007 and 2015 via technological innovation..
In the Asia-Pacific region, the company reduced the volume of water required to produce 1 liter of alcohol from 2.4 liters in 2007 to 2.2 liters last year, which means a total of 22 million liters of water saved annually, with greater savings forecast for the future.
As Diageo has no production site in China so far, it is helping to protect water resources and enabling people to get a clean water supply.
In 2008, it joined hands with Worldwide Fund for Nature (WWF) on a two-and-a-half-year conservation program at east Taihu Lake, near Shanghai.
"This involved funding technical experts to work with local stakeholders, communities and government to reduce water pollution through scientific research and pilot schemes. We also established two centers to educate the community. It's just finished and been quite successful," said Lin.
The company also teamed up with the WWF in several counties badly affected by the Sichuan earthquake in 2008 to rebuild water delivery systems. It funded the construction of 18.5 kilometers of water piping to bring water to the area and construct wells to store water.
According to the CSR director, more than 1 million yuan from the company and its employees has been pooled into the Sichuan water project.
Amid the terrible droughts in southwestern China, Diageo contributed 100,000 yuan through the Foundation for Poverty Alleviation to build rainwater harvesting systems in disaster-stricken communities.
The premium drinks business is now looking to do more sustainable work in Gansu to develop a longer-term rainwater harvesting and delivery program for local communities.
According to Lin, Diageo employee volunteers have visited Sichuan to help with the post-earthquake reconstruction. They will go to Gansu in July.
The drinks company has carried out and is planning various kinds of CSR programs both globally and in China. When Diageo was formed over 10 years ago with the merger of Guinness and Grand Metropolitan, they settled on four main areas for their community investment agenda among the overall CSR strategies. In addition to water, the others are skills for life, community support and disaster relief.
Diageo brought its Keep Walking Fund to the mainland last November to support individuals who are pursuing their dreams to help others. It provided financial support and professional training to participants in the six-month "Powering Your Dream" campaign that ended last week.
Competitions were held in Beijing, Shanghai, Guangzhou and Chengdu. The company invited experts from various social sectors to form a panel of judges to evaluate entries based on the impact, foresight, feasibility and sustainability of proposed social service projects, as well as the practical experience of applicants.
Five winners have been selected. They will share a 1 million yuan award to fund their projects. The prize will be allocated in line with the financial needs of the winning projects. Diageo will supervise the winners to ensure their plans are implemented efficiently.
One of the five winning projects is on water conservation. The plan involves mobilizing local government, socially-conscious businesses and non-profit organizations as well as more than 2,000 volunteers in a joint effort to clean up sea-borne garbage. In addition to the clean-up, the garbage will be sorted and analyzed to build a monitoring database that will feed into the global efforts to clean up the oceans.
These actions are expected to influence government decision-making and build public interest and awareness in protecting the marine environment through action and examples.
"It shows that our efforts on water have got effects that can inspire people to pay attention to this issue," said Lin.
The global Responsible Drinking initiative has also been brought to China to encourage and help consumers drink alcohol healthily and safely.
Diageo is committing at least 1 percent of operating profit to community programs every year. Last year, the company invested about 23.5 million pounds worldwide.
"In China, we are working toward that same delivery. It's around 3 to 5 million yuan every year. That includes all projects," said Lin.
"The challenges are in identifying projects and programs where we can guarantee a more sustainable outcome", he added, saying that the traditional CSR method is just to give money and walk away. This leaves a long vicious cycle between the donor and the beneficiary of interdependency..
"We want to move toward more independence for the beneficiary, where they can sustain themselves long term. That is the future of development," he said, highlighting that his company will always "do" water, because it's so important to Diageo, and it will also always encourage responsible drinking, because it was its duty as a drinks company.
"We are also very flexible about the directions in building sustainable communities in the future," he said.
About challenges in the Asia-Pacific region, Lin said that it was a very heterogeneous geographic region full of different localized demands, so figuring out how to drive a strategy forward with a clear theme and yet at the same time address the needs of the people on the ground in these different markets was problematic.
Diageo is listed on both the London and the New York stock exchanges. It has more than 20,000 employees globally. Its alcohol brands include Smirnoff, Johnnie Walker, J & B, Baileys and Guinness.