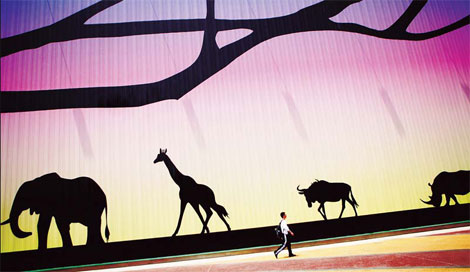 A visitor passes the Africa Pavilion at the ongoing Shanghai World Expo. [Feng Li / For China Daily]
PE firm likely to raise $2 billion over next three years
BEIJING - The China-Africa Development Fund (CAD Fund), China's largest private equity (PE) fund focused on African investments, has kicked off its second-phase of fund raising to raise $2 billion over three years, a top fund official said on Thursday.
"The capital-raising plan will be open to qualified entities that have interest in making investments in Africa," Li Dongya, managing director for operations and management at the CAD Fund told China Daily.
He said the capital raised would be used for infrastructure construction, agriculture, manufacturing and electricity projects.
The fund was started with $1 billion from China Development Bank Corp in 2007, after President Hu Jintao promised to set up the CAD Fund at the Beijing Summit on China-Africa Cooperation in 2006.
The central government plans to eventually expand the fund to $5 billion, but has not set any timetable.
"We have decided to invest around $800 million in 30 projects in Africa, and the initial $1 billion is likely to be used up by the end of this year," Li said. He added that the fund's investment in 2009 alone was $140 million compared with China's total investment of $1.3 billion in Africa last year.
CAD Fund's direct capital and other domestic companies' investments facilitated by the fund accounted for more than 30 percent of the country's combined investments in Africa during 2009, said Li.
Related readings:


 Jidong, CAD Fund team up for cement plant in South Africa


 CAD offers new landing path to reduce fuel costs


 HK CAD plans to acquire stake in Kunming airport


 Autodesk releases Chinese version of CAD tool

Figures from the Ministry of Commerce show that bilateral trade between China and Africa rose 76 percent to $27.8 billion during the first quarter of this year compared with the same period last year. China-Africa trade hit all time high of $106.8 billion in 2008, followed by a slump in 2009 due to the global financial crisis.
CAD Fund has teamed up with Chinese companies for investments in Africa and is largely a financial investor. The fund does not hold controlling stakes in any project and limits its holdings between 10-50 percent, said Li.
"Our mission is to encourage domestic companies to invest in Africa and introduce China's experience during its progress under the reform and opening up policies to the African companies, and also explore new markets for domestic companies in African nations," he said.
The government-backed PE fund is targeting double-digit returns on its investments (ROI).
"We are a market-oriented fund, but can not realize profits from each project quickly, given the continent's unexpected difficulties for foreign investors and the lagging infrastructure facilities," Li said, adding that the ROI targets are likely to be met over the next few years.
"We are in discussions with over 100 projects currently, and will focus more on agriculture, manufacturing, and infrastructure construction like electricity and harbors in the next phase after the manufacturing sector now," Li said.
CAD Fund has facilitated projects in Africa, including a glass manufacturer and a cement factory in Ethiopia, a power station in Ghana, and industrial parks in Egypt.