BEIJING - China's electricity prices will not ramp up in the near term, even though the government is under huge pressure due to rising coal prices, a senior official said on Tuesday.
"Now the Consumer Price Index (CPI) is fairly high, so raising electricity fees will not be proper," said Jiang Zhimin, vice-chairman of the China National Coal Association.
Coal prices will remain at the current level, and are not expected to fluctuate much in the second quarter, he said.
Thermal coal prices have seen a significant rise in the last eight weeks, with 5,500 kilocalorie coal trading at between 755 and 765 yuan ($112) per ton last week in Qinhuangdao port, up 15 yuan per ton over the previous week.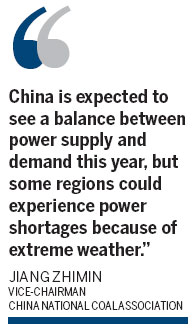 Five major Chinese power producers have sought government permission to raise electricity rates as coal prices increased nearly 20 percent this year, eating up power producers' profits.
China's power producers reported 900 million yuan in losses in the first two months of this year.
Unlike coal prices, which are now more market-oriented, the country's electricity prices are still under government control.
The government approved a mechanism linking coal and power prices in 2004. Under the system, electricity prices ramp up after coal prices rise by more than 5 percent over a six-month period.
However, the government has raised electricity prices using this mechanism only twice to date.
"China is expected to see a balance between power supply and demand this year, but some regions could experience power shortages because of extreme weather," Jiang said.
Analysts expect China's coal consumption growth could keep pace with economic growth, forecast at 9.5 percent while the country's power demand is expected to grow 7 percent this year.
Related readings:


 China's April electricity consumption rises 23%


 300 times more Russian electricity imported in '09


 Drought forces SW provinces to ration electricity


 Coal shortage, electricity rationing continue in China
Since China withdrew coal contracts in 2009 after years of government control, thermal power generators need a market-trading center.
Dalian, which will hold the Summer North Asia Coal Trade Fair 2010, aims to build a coal trading center oriented to producers, consumers and traders of coal domestically and aboard, and will regularly release price information, amid projections for forming a China price in the global coal market.
"Unlike Taiyuan and Qinhuangdao, which both have coal resources, Dalian will focus on providing information services to help consumers reduce costs and make trading processes transparent," said Li Hongguo, chairman of Northeast Asian Coal Exchange Center.