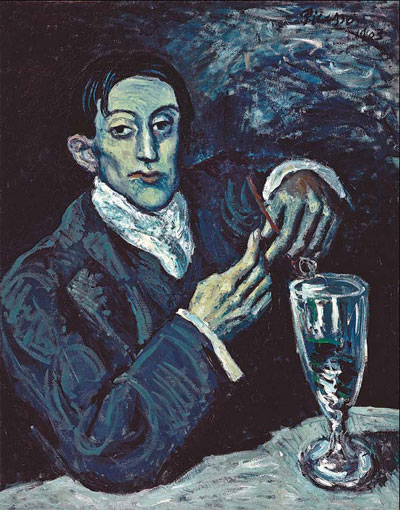 "The Absinthe Drinker" - a 1903 work by the great Spanish artist Picasso - has a guide price of between 300 and 400 million yuan. Christie's will be hoping to lure a major Chinese buyer when it exhibits the painting this week in Hong Kong. [China Daily] 
Newly rich splashing out millions on Western works
BEIJING: Chinese mainland's billionaire art buyers, who are taking the international market by storm this year, could be about to make their next move in Hong Kong this week.
Related readings:


 China International Gallery Exposition 2010


 3rd China Culture and Art Expo kicks off in Weifang


 China art market soul-searching as prices plummet


 China calls for return of art treasures from abroad
The art world is at fever pitch after an anonymous telephone bidder, now believed to be Chinese, paid a world record $106.4 million for a work by Pablo Picasso at a Christie's sale in New York earlier this month.
The purchase of the 1932 portrait of his blonde mistress called "Nude, Green Leaves and Bust" was one of a whole series of art auction scalps by mainland Chinese buyers this year.
These collectors, many of them newly rich entrepreneurs, are transforming the fortunes of the art market, which last year saw auction art prices fall globally by 30 percent, according to the Mei Moses Fine Art Index, following the onset of the economic crisis.
The world's focus this week will be on the The Hong Kong International Art Fair, where a number of high profile works, including a $12 million Andy Warhol and a Picasso, which could easily exceed that amount, are up for sale.

At the same time Christie's will again be hoping to lure a major Chinese buyer when it exhibits another painting by Picasso this week, also in Hong Kong.
"The Absinthe Drinker" - a 1903 work by the great Spanish artist - has a guide price of between 300 and 400 million yuan and is being paraded before going up for sale in London next month.
Ken Yeh, chairman of Christie's Asia in Hong Kong, said China's billionaire art buyers are creating something of an electric atmosphere in the art world.
"I think the potential for Western art in China is huge, just massive. There have been a very few Chinese people buying impressionist modern paintings since 2004 and 2005 but suddenly, since last year, there has been almost a surge," he said.
The auction house head believes this surge has been created by up to 20 Chinese buyers who have suddenly embarked on a mission to buy Western art.
"The Chinese mainland buyers have only just started buying impressionist works so there is a lot of potential for this to go a lot further than it already has," he said.
Mei Jianping, professor of finance at the Cheung Kong Graduate School of Business in Beijing and co-creator of the Mei Moses Fine Art Price Index, believes recent activity could send the price of Western art, particularly impressionists, soaring.
He believes what is happening is similar to the Japanese art spending spree in the late-1980s, which saw the impressionist art index increase by more than 200 per cent. The Japanese were buying $10 billion of art every year at auction.
"The joke at Sotheby's or Christie's at the time was whenever you see an Asian face the prices go up by 10 per cent," he said.
"With China being a much bigger country with potentially many more rich individuals, the scale could be even bigger this time.
"Chinese collectors are the new kids on the block and they want to demonstrate they are sophisticated and are in the same league as some of the best collectors in the world. We could be at the start of another spectacular impressionist boom."
There is a sense of anticipation ahead of the Hong Kong International Art Fair, which opens on Thursday.
The leading Asian art event at the Hong Kong Convention and Exhibition Centre has no fewer than 155 galleries represented this year.
The Warhol for sale is a 1981 silkscreen ink work called "Myths". The Picasso is a 1936 example of the artist's work and is called "Figure". There are also installations for sale by the British contemporary artist Damien Hirst, which may or may not appeal to Chinese tastes.