BEIJING - High-profile dealmaker and former Goldman Sachs top Asian executive Fred Hu has decided to launch a $10 billion private equity (PE) fund after exiting from the race for a senior position in the nation's central bank, sources familiar with the matter said on Thursday.
Hu is now courting investments for his China-dedicated fund called Chunhua. A number of institutional investors, including the Ping An Group, are keen on investing in the fund, a source told China Daily on condition of anonymity.
Ping An Group, the nation's second largest insurer, may invest $5 billion in the fund, the source said, adding that the two sides are yet to finalize the deal.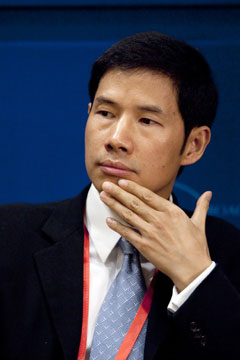 Fred Hu, former Goldman Sachs partner, is one of the top dealmakers in China. 
The source said the fund could also rope in some foreign investors, but declined to give more details as the talks were still in initial stages. Hu could not be reached immediately for comments.
The investment arm of China Construction Bank, Singapore government-owned Temasek Holdings and his former employer Goldman Sachs are some of the other companies who could help Hu launch the fund, Reuters reported earlier citing sources close to the matter.
Hu, a veteran dealmaker in China, stepped down as a partner of Goldman Sachs recently after working with the Wall Street bank for 13 years.
In one of his landmark deals, Hu spearheaded the $3.78 billion investment for Goldman in Industrial and Commercial Bank of China.
During the past few months, Hu has been in the spotlight with speculation that the 47-year-old professional may follow in the footsteps of his Chinese peers at Western investment banks to launch his own private equity fund, or join the People's Bank of China (PBOC), the central bank, as the deputy governor in charge of foreign exchange management.
Hu was among the professionals considered by the government for senior positions as part of its plan to bring home the talent working in Western firms.
Industry insiders said Hu's appointment as central bank deputy governor was an unlikely choice akin to sending a paratrooper to a crucial post.
Du Jinfu, assistant governor of the People's Bank of China, is now tipped to be named deputy governor after going through a week-long internal review. Two of the current deputy governors, Su Ning and Ma Delun, are set to leave the central bank after nearTalentsing the retirement age for government officials.
Hu joins some of his other colleagues from Goldman who have floated PE funds in China. Fang Fenglei, who helped Goldman launch its investment bank joint venture, set up Hopu Investments three years ago and the fund now has $2.5 billion worth of assets under management.