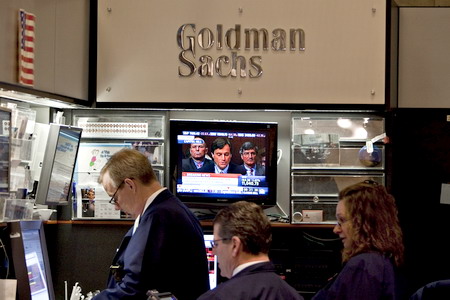 Traders work under a Goldman Sachs logo at the New York Stock Exchange. Insurance industry sources said that an investment arm of Goldman Sachs is in the final stages of an agreement to buy AXA's $1.05 billion stake in Taikang Life. [Daniel Acker / Bloomberg News]


New insurance industry rules dictate foreign firms must have clean slate
BEIJING - Goldman Sachs' plan to enter China's insurance market might be deterred as the country's insurance regulator tightens the rules on foreign investments in the sector.
The China Insurance Regulatory Commission (CIRC) on Thursday issued a rule on insurance companies' equity management, setting a strict threshold for the entry of foreign capital into the country's fast growing insurance sector.
According to the rule, only domestic business entities and overseas financial institutions could purchase a stake in a Chinese insurer. And foreign financial firms looking to invest in Chinese insurers should have net assets of no less than $2 billion yuan by the end of last year.
Moreover, foreign institutions should be profitable for three consecutive years and have an "A" rating or above from international rating agencies for the past three years.
These firms should not have been involved in any major legal irregularities over the past three years, and their business practices should be in line with the regulatory requirements of their home country.
In a filing by the US Securities and Exchange Commission in April, Goldman allegedly committed investor fraud by failing to disclose a conflict of interest on mortgage investments the firm sold while the US housing market went south.
As a result, CIRC's new rule may prevent the investment bank from getting into the market, analysts said.
Related readings:

 Goldman nears deal for AXA's $1b Taikang stake


 US launches criminal probe into Goldman Sachs


 Goldman Sachs' soul search-sincere or strategy?


 Goldman CEO denies wrongdoing in crisis

Industry sources said last week that the investment arm of Goldman Sachs is in the final stages of an agreement to buy AXA's $1.05 billion stake in Taikang Life, a deal that could give Goldman a substantial stake in China's fourth largest life insurer.
"We haven't received Goldman Sachs' application on this deal yet," Ben Ben, head of the development and reform department of the CIRC, said. "If we receive the application, we'll follow the rules during the approval process."
Wang Xiaogang, senior analyst with Shanghai-based Orient Securities, said the rule aims to strengthen risk management of foreign investors, especially after the financial crisis.
"Since there are no more detailed explanations about rating standards ... the regulator still has flexibility in implementation," Wang said. But a top manager at a foreign insurer said he finds these rules a bit tougher than expected.
According to the rule, the CIRC also allows a qualified single investor to hold more than a 20 percent stake in an insurance company.
The regulator said that this is intended to reduce infighting between stockholders by cutting the number of investors.
Qualified investor's net assets should not be less than 200 million yuan and the investor should be profitable for three years in a row.