As if dancing in tune with Premier Wen Jiabao's remarks over the weekend, the Chinese stock market plummeted 5.1 percent on Monday to its lowest close in a year.
This fall represents a legitimate call from the market for the fine-tuning of the country's property tightening policies.
Wen vowed during his weekend visit to the port city of Tianjin that China would resolutely fight excessive house price rises. However, given the complicated domestic and overseas situation, the Chinese economy is bogged down in a dilemma.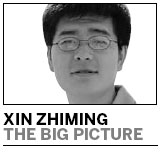 Uncertainty has turned out to be the biggest enemy of the market. Analysts have mostly attributed Monday's slump to investor concerns about the spreading European sovereign debt crisis and, domestically, to the stronger-than-expected government measures to clamp down on property prices, as real estate shares led the plunge.
The nearly $1 trillion bailout plan by the EU and the International Monetary Fund has apparently failed to dispel investor pessimism as they fear the ensuing cuts in European countries' fiscal expenditure could lead to an economic slowdown.
The fallouts from the European crisis have started to affect global markets, which tumbled in a number of major economies on Friday and Monday.
Reflecting such growing uncertainty, Christina Romer, chairwoman of the US White House Council of Economic Advisers, has called for further economic stimulus instead of the withdrawal of such measures.
A European and global economic slowdown would have some impact on China's exports, but the effect on the overall economy could theoretically be limited if Chinese policymakers manage to jazz up investment and consumption as they did during the global financial crisis.
But this situation is starkly different. Two years ago China faced no such menaces as rising inflation or surging asset prices and it had much room to maneuver in churning out stimulus policies. But now, given the already lax liquidity and exorbitantly high home prices, it has few choices but keep them under control. Tightening measures, meanwhile, risk dragging on economic growth, as reflected by the stock market reaction.
Related readings:


 China's stock drop not caused by futures, Wang says


 China stock index futures down -- May 17


 China's stocks dive Monday on housing fears


 Many property buyers 'delaying' their purchases
By initiating those tightening measures, the government has opened the Pandora's box. It should take those actions, indeed, as home price rises have risked triggering public discontent and threaten social stability.
It is simply that they are belated; the best time for taming home prices has passed - probably before 2007 during the first round of rampant price rises.
Now there can be no optimal solutions - those that could bring down house prices without substantially jeopardizing economic growth, because the sector accounts for too much of the overall economy.
Property sector statistics show that transactions are plummeting. This indicates that the tightening policies need fine-tuning if not major adjustment, so that the sector remains active while prices stop rising. Only in this way can the country's economic growth remain largely stable.
Otherwise, the current measures would be like moving the deckchairs on the Titanic.
xinzhiming@chinadaily.com.cn