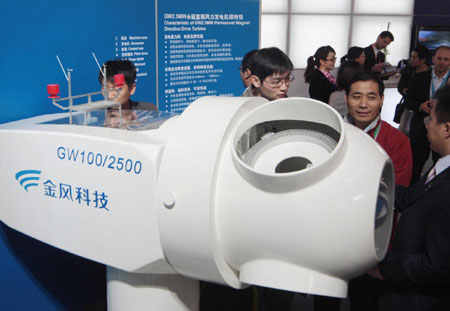 Visitors looking at a Goldwind turbine at a wind power exhibition in Beijing. The wind power equipment maker expects overseas sales will account for up to 30 percent of its business over the next three to five years. [Wu Changqing / for China Daily] 
Listing comes as company eyes overseas expansion
BEIJING - Xinjiang Goldwind Science & Technology Co, the world's fifth largest wind power equipment maker, said on Monday that it has received approval from China Securities Regulatory Commission to make an initial public offering in Hong Kong.
The company may offer up to 454.59 million shares, including 59.29 million shares in over-allotment, according to a statement released on Monday.
Goldwind, which is already listed on the mainland's Shenzhen stock exchange, said in October it planned to float shares in Hong Kong. Sources familiar with the company's Hong Kong listing plans said in January that it aimed to raise $1.5 billion and this would take place in the first half of the year, according to Reuters.
The listing still needs approval from the Hong Kong Stock Exchange.
"The Hong Kong listing exemplifies Goldwind's ambition to expand its global business and provides the capital that would be used to develop megawatt-capacity equipment, which is the trend of the industry," said Jiang Qian, an industry analyst at China Investment Consulting.
China has been encouraging and supporting internationally competitive enterprises like Goldwind to go overseas by offering preferential policies, Jiang added.
Wu Gang, chairman of Goldwind, told China Daily in an earlier interview that the company is looking at markets in the United States, Australia, Central Europe and Africa and he expects overseas sales to account for up to 30 percent of its business over the next three to five years.
Chinese wind power equipment manufacturers are very competitive in the international market as the result of the relatively good quality of their products and lower prices, according to industry analysts.
Meanwhile, Chinese manufacturers have also seized a bigger slice of the domestic market from their foreign competitors who are losing ground as their products are much more expensive.
China has overtaken the US as the largest wind power market. The country will have an installed wind power capacity exceeding 16 million kW by June.
Related readings:

 Goldwind to spread wings overseas for growth


 Sinovel develops 3MW offshore wind turbine


 Govt pushes for more offshore wind farms


 China Longyuan to spend $13b to lead wind power league
Industry experts estimate China will install wind power capacity of around 10 million kW annually in the coming years, while the production capacity of the equipment is likely to exceed 20 million kW next year, raising concerns about overcapacity.
Goldwind's revenue in the first quarter of this year surged 61.69 percent to 1.855 billion yuan but profit only rose 27 percent to 248 million yuan, indicating a narrower profit margin due to more intense domestic competition.
The company's overseas expansion strategy will offset the negative impact of domestic overcapacity, according to analysis by Gerson Lehrman Group Councils.
Besides, Sinovel, now the world's third largest wind power maker and Goldwind's major rival, has outstripped it in recent years, forcing the company to seek markets abroad, according to Jiang.