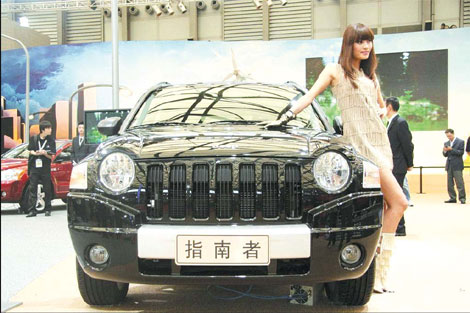 Sources say GAC and Chrysler have reached a preliminary agreement to jointly build Jeeps in Changsha, Hunan province. [China Daily]


Fiat-GAC venture now in talks to make Jeeps in Changsha
BEIJING - Guangzhou Automobile (GAC), China's sixth-biggest auto group, will likely produce Chrysler's Jeep at its joint venture with Fiat Automobiles SpA, according to local media reports.
After Chrysler's 2009 bankruptcy and complex restructuring, Fiat now owns a 20 percent share in the troubled carmaker that could eventually grow to 35 percent. The United States and Canadian governments also hold minority stakes.
A source at GAC told China Business Journal that the GAC-Fiat project is in renegotiation with the focus on more locally produced, competitive models.
The two sides signed an agreement last July to establish a joint venture in Changsha, capital of Hunan province, and planned to first make Fiat's 1.4-liter Linea sedan in 2011 when the facility is completed.
The source said GAC and Chrysler have reached a preliminary agreement to jointly build Jeeps in Changsha, with the first model to be the Compass, according to the report of China Business Journal last week.
John Kett, chief of Chrysler's Asia-Pacific operations, said in an interview last week that further research with GAC on local production is needed, adding that it would be a medium to long-term plan that requires three to four years of preparation, according to a report in the Economic Observer newspaper.
Kett said Chrysler will not seek a separate local partner in the short term.
A month ago Fiat released a five-year plan that calls for the company to produce and sell 300,000 vehicles, including Chrysler products, in China by 2014.
GAC is now Fiat's only local partner after the Italian carmaker withdrew from its loss-making joint venture with Nanjing Automobile Corp in 2007
No cars since 2009
Chrysler has had no local partner since it pulled out of Daimler AG's joint venture with Beijing Automotive at the beginning of 2009.
The joint venture between GAC and Fiat has made no official announcement on producing Chrysler products.
Without local production, both Fiat and Chrysler report sluggish sales in China.
Market data shows that Fiat sold only 454 cars last year in China - excluding its Iveco commercial vehicles and Ferrari and Maserati sports cars - and in the first quarter this year moved fewer than 100 units.
Chrysler fared better, with 15,000 of its vehicles purchased in China last year. The company's sales between January and March this year was nearly 4,000 cars.
Construction on the GAC-Fiat joint venture's auto plant has yet to truly get underway, although six months have passed since its foundations were laid last November.
The planned 5 billion yuan facility would have initial annual production capacity of 140,000 cars and 220,000 engines, which at build out would increase to 250,000 cars and 300,000 engines a year.
Sources with knowledge of the project say the construction delay is in large part due to tough negotiations between the two sides on introduction of new models and internal management issues. The plan for the project will possibly be adjusted, they said.
If the cooperation comes to fruition, Chrysler will be the fourth foreign brand to build passenger vehicles with GAC. Its partners already include Honda, Toyota and Fiat.
GAC growth strategies
GAC acquired homegrown SUV maker Changfeng Motor last year and minibus manufacturer Gonow Auto this year in its ongoing effort to become a bigger player in the industry.
Related readings:

 Fiat may delay listing until Chrysler bounces back


 Chrysler to 'hibernate' until fortunes improve


 Chrysler to recall 1,809 Wrangler vehicles in China


 'Fiat can't match Chrysler margins'
The company also plans to go public in Hong Kong through a backdoor listing using its Denway Motors unit. GAC now holds a 37.9 percent stake in the Hong Kong-listed company.
GAC plans to acquire all outstanding Denway shares through a stock swap for shares in the parent company.
The company is waiting for approval from the Hong Kong stock exchange after it submitted its application in January this year.
A recent report in Shanghai Securities News said that GAC is still in talks with Denway shareholders about the ratio of the share exchange. If a deal is reached, GAC is likely to list in Hong Kong before July, the report said.
Trading in Denway stock was suspended on April 29.