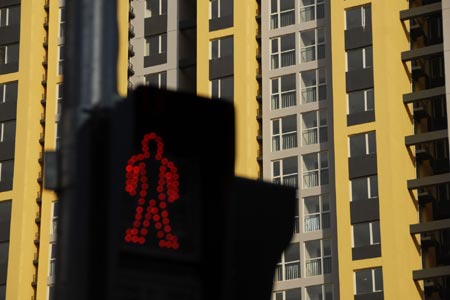 A residential project in Beijing. China's housing prices rose at the fastest pace in almost two years in February, jumping 10.7 percent from a year earlier. [China Daily]
BEIJING - China's top banking regulator on Friday announced beefed up measures to rein in the nation's runaway real estate sector.
Banks are only allowed to make bridging loans to developers that have commercial or residential properties in progress, and not just "a piece of land", Liu Mingkang, China Banking Regulatory Commission chairman, said at a forum in Beijing.
Housing prices rose at the fastest pace in almost two years in February, jumping 10.7 percent from a year earlier, which has fanned worries about the formation of asset bubbles and prompted the government to take measures to cool down the sizzling real estate market.
With housing prices hovering at a record level and the launch of frequent government administrative curbs on real estate developers, the market is closely watching banks' property loans following the record 9.59 trillion yuan ($1.4 trillion) in new loans issued last year by Chinese lenders.
Sources indicated that the country's top banking regulator warned lenders of the latent risk embedded in the property market in the second quarter last year after they gave out a record monthly average of 1.5 trillion yuan in the first three months to help shore up the slowing economy amid the financial crisis.
Related readings:


 State firms told to exit real estate sector

 Real estate companies' net profits soar in 2009


 Real estate: Pressure of property price increases


 Remedies for real estate prices in need of oversight committee
The banking regulator is now working with the Ministry of Land and Resources on developing a real estate developer "blacklist", providing lenders with evidence concerning developers' credibility and financial strength.
Analysts said that given the manageable level of loans concentrating on the property sector, the risks posed by Chinese banks' property loans remains limited.
As of the end of last year, property loans accounted for 7.6 percent of the total corporate loans portfolio of both Bank of China (BOC) and Industrial and Commercial Bank of China (ICBC) respectively. BOC was the most aggressive in pushing out loans among Chinese lenders last year, while ICBC is the nation's largest lender.