Foxconn, an original equipment manufacture (OEM) front-runner in the communication, computer and consumer (3C) product area, formulated a blueprint in September aimed at establishing its own distribution network in mainland China by setting up 10,000 chain stores.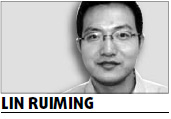 Within the next three years, Foxconn intends to invest 10 billion Taiwanese dollars to set up as many as 10,000 3C chain stores in China, as part of its efforts to transform itself from an OEM producer into a retail distribution giant.
Foxconn's "processing export" business model faced a major challenge during the global financial crisis.
Foxconn, the world's largest 3C product OEM producer, has been going all-out to promote the overseas sales of products produced in China.
Of China's top 200 foreign trade companies in 2008, compiled by the Chinese Customs Office, nine subsidiaries of the Foxconn Group were included, with their combined exports estimated at $44.48 billion.
Related readings:


 HP, Foxconn to set up laptop unit


 Foxconn sags 6% on profit warning


 Foxconn Int'l sees profitability coming under pressure


 Foxconn to build new facilities in mainland and Vietnam
The aggregate exports of Foxconn subsidiaries amounted to $55.6 billion, accounting for about 3.9 percent of China's total exports - the largest single group in China in terms of export totals.
Among Foxconn's subsidiaries is Hongfujin Precision Industry Co, which reported $26.2 billion in exports, ranking No 1 for the seventh straight year in the top 200 foreign trade company rankings.
The global financial crisis dealt a blow to Foxconn, which relied heavily on foreign markets. Although Foxconn maintained a relatively sound export performance in 2008, its shipments of computers, one of its flagship areas, registered a negative year-on-year growth of 10 percent, chalking up a 22 percent growth in sales.
This was the first time in 10 years that Foxconn failed to meet its annual growth target of 30 percent set by its chairman Terry Gou.
With its sales and profits both plunging by 30 percent in the first half of 2009, compared with the same period in 2008, Foxconn is now facing an unprecedented crisis.
Plagued by a decline in profitability, Foxconn, founded 35 years ago, is now looking for a new leap forward through its launch into China's distribution market.
Within the next 20 years, China is expected to emerge as the world's fastest-growing distribution market on the back of the expansion of domestic demand.