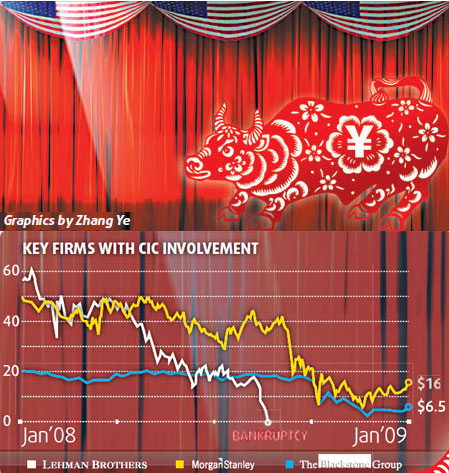 Few companies have had such inauspicious beginnings as China Investment Corporation (CIC), China's first sovereign wealth fund, backed by the world's largest foreign exchange reserves.
Related readings:


 China urges security, liquidity upon forex reserves


 Oil firms set to cash in on forex surplus


 CIC arm buying up bank shares as others sell
Seventeen months ago the $200-billion fund had a lavish inaugural ceremony in Beijing and immediately started investing in some of the hottest names on Wall Street, including $5 billion in Morgan Stanley and $3 billion in then-celebrated hedge fund Blackstone.
But the investments soured and billions were lost in the global financial tsunami and questions over CIC's operational skills mounted among the Chinese public. CIC chairman Lou Jiwei admitted in a January forum in Hong Kong he "dare not" invest in any foreign financial institution in the light of the uncertain market climate.
But CIC is not passively biding time until the financial fallout blows over. Market observers said there are signs the Chinese sovereign fund is shifting its focus from troublesome financial assets to some cash-strapped industries, such as energy, raw materials and hi-tech manufacturing, as the global financial crisis deepens.
Fortescue Metals Group Ltd, Australia's third-largest iron ore exporter, has confirmed last week it had talks with CIC and Anglo American Plc on "investment opportunities."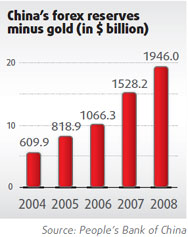 CIC is also joining a bid for International Lease Finance, the debt-ridden aircraft-leasing unit of American International Group (AIG). Other bidders include sovereign funds such as Dubai's investment arm Istithmar World and the Kuwait Investment Authority and private equity firms such as Kohlberg Kravis Roberts, TPG Capital and the Carlyle Group.
"Sovereign wealth fund used to have a hard time getting access to certain sectors in foreign countries, for various political and commercial reasons," said Yang Ruilong, head of the college of economics at Beijing's Renmin University. "But now such action might be easier as increasingly capital-hungry businesses get caught in the global economic downturn."
CIC is also reportedly negotiating to buy up to 50 percent of CITIC Capital Holdings Ltd, a leading China-focused investment firm, which manages over $1.6 billion worth of assets. Sources close to the situation said talks between CIC and CITIC Capital's parent company, CITIC Pacific, have been going on for several months. Japan will become an investment focus this year for CITIC Capital, which is also running a $70 million global hedge fund and some Asia-focused real estate funds, according to the sources.
"CIC is understandably hesitant to invest in foreign financial institutions at this time but instead of doing nothing it will likely take a selective and prudent approach and consider other types of global investments," said Jing Ulrich, managing director and chairwoman of China Equities at JP Morgan.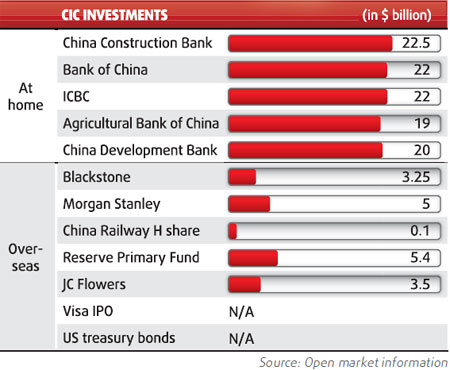 CIC is also adding stakes in the Chinese market in the meantime. Central Huijin Investment Co, an investment subsidiary under CIC, began large-scale acquisition of bank shares, including those of Bank of China, China Construction Bank and Industrial & Commercial Bank of China, in September last year, when the Chinese stock market sank to record depths. By doing so CIC helped to steady the Chinese stock market, which dropped 65 percent in 2008, seriously undermining its function as a source of capital to Chinese businesses.
CIC chairman Lou reaffirmed in mid-January that the fund was still buying shares in the three banks, in stark opposition to the de-investment of Chinese bank shares by cash-strapped foreign stakeholders such as Bank of America, UBS and the Royal Bank of Scotland.
"CIC may find opportunities at home as domestic valuations become more compelling. While there is a downside in terms of risk to corporate earnings, stock market stabilization tends to lead economic recovery by several months," said Ulrich of JP Morgan.
CIC is taking lessons from its loss-making deals last year and is rebuilding its professional team. Last December the fund replaced the head of its alternative investment department, which takes care of overseas direct investment, real estate funds and private equity funds.
Last year CIC lost an undetermined percentage of a $3.2 billion investment in private equity fund JC Flowers. Steep devaluation of shares in Germany's second largest commercial mortgage firm Hypo Real Estate (HRE) triggered the loss. JC Flowers had bought about 450 million euro of HRE stock in June 2008.
The fate of CIC's $5.4-billion stake in Reserve Primary Fund, a US money-market fund, which held $785 million worth of Lehman Brothers Holding Inc. commercial paper and medium-term notes, is also in question since Reserve Primary Fund liquidated last year and froze redemptions.
Zhou Yuan, a former senior executive of UBS China business, is the new head of CIC's alternative investment unit. Some 30 veteran financial professionals with international experience were also recruited late last year. The number of employees with overseas work experience now accounts for about half of CIC's staff, according to CIC sources.
CIC has also set up a new department for asset allocation and strategy research to help optimize its portfolio.
The fund initially took an aggressive overseas investment strategy. It allocated 15 percent of its capital to fixed-income securities investment, 35 to 40 percent to equities, and the rest to alternative asset investment, such as private equity funds. In April last year CIC president Gao Xiqing said the sovereign-wealth fund had $80 billion to $90 billion to invest overseas.
But the worldwide financial turmoil showed how vulnerable that ratio left CIC. "We are adjusting the portfolio and there will be big changes in the proportion of stakes in different aspects," a source with CIC said.
Wang Shuilin, head of CIC's external affairs department, said in a forum last month that CIC has done its homework and is now ready to make diversified overseas investment with a long-term approach to maximize the fund's equity value.