Lack of rainfall has led to severe drought in northern China, affecting more than 140 million mu (9.3 million hectares) of wheat, said the Ministry of Agriculture (MOA) on Tuesday.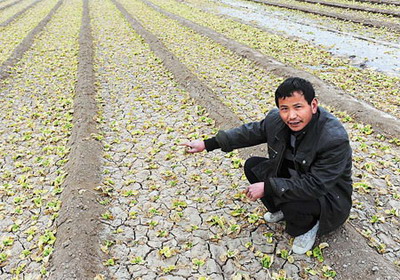 A farmer points at his parched crops in Bozhou, Anhui province, Monday, February 2, 2009. The region has been hit by its worst drought in 50 years. [China Daily]
By February 2, 141 million mu wheat in six major grain production provinces, including Henan, Anhui, Shandong, Shanxi, Gansu and Shaanxi, were hit by drought, Agriculture Minister Sun Zhengcai said at a video conference called to coordinate drought relief efforts.
The drought is casting a shadow over China's wheat production, as almost 43 percent of the winter crop has been affected. In comparison, nine million mu of wheat suffered from drought in the same period last year.
Related readings:


Drought relief effort under way as millions affected


Drought put north China on red alert


Drought hurts vast wheat farmland

Drought hits north, east China
Sun said little rainfall since last October was the main reason for the prolonged drought in most parts of the northern areas, and frequent cold snaps this winter made the situation worse.
According to Monday's weather report by China Meteorological Administration, severe drought in north China was expected to continue as no rain has been forecasted for the next ten days.
The MOA warned that more wheat crop could perish if drought continues to linger.
To cope with the problem, the MOA asked agricultural departments of every level to collect all of their strength to channel water, enhance irrigation and fertilization.
MOA has sent 12 working teams of experts to the drought-hit provinces, to help farmers on drought relief work.
By Monday, The Ministry of Finance has allocated 100 million yuan ($14.6 million) in emergency funding to help farmers weather the difficulties.
In related development, drought has affected about 1.74 million hectares of crop and caused an economic loss of 1.6 billion yuan ($234 million) in east China's Anhui province, the provincial authority on drought relief said on Tuesday.
The life of some 12.87 million people is threatened by the drought, the provincial civil affairs bureau said.
The provincial government has allocated 10 million yuan from the governor's reserve fund for drought relief. It has also earmarked 15 million yuan to subsidize farmers buying irrigation equipment. The annual 300 million yuan in agricultural material subsidies will be paid to farmers earlier than normal years.
The government also plans to carry out artificial precipitation when weather permits.