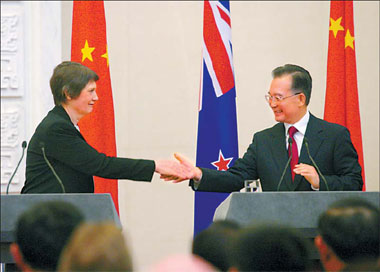 Premier Wen Jiabao greets New Zealand Prime Minister Helen Clark at a news conference after the signing of the free trade pact between the two countries in Beijing yesterday. [China Daily]

China and New Zealand signed a free trade agreement, the first such pact between China and a developed country, on Monday.
Related readings:


 Govt to sign first FTA with a developed nation

 China, New Zealand to ink FTA deal in April


 ASEAN pushes ahead FTA talks with China


 China, Asean on crucial stage in FTA talks
The deal was inked by Chinese Commerce Minister Chen Deming and New Zealand Trade Minister Phil Goff. Chinese Premier Wen Jiabao and his New Zealand counterpart Helen Clark attended the signing ceremony after over-one-hour bilateral talks.
The signing and implementation of the agreement will "further the friendly and cooperative relations between the two countries, promote each's economic growth, and bring practical benefits to the two peoples," Wen said at the beginning of the talks.
Wen descried the day of the signing as "a day of historical significance" and said the move "met the goal" the two countries set during negotiations.
China and New Zealand formally launched the free trade negotiations in December 2004 and concluded the talks in December 2007 following 15 rounds of negotiations.
The FTA agreement with China is the largest for New Zealand since the Closer Economic Agreement with Australia was signed in 1983.
New Zealand is also the first developed country to recognize China's full market economy status.
China is New Zealand's third largest trading partner and fifth most profitable export market, according to the New Zealand Trade Minister Phil Goff.
Clark, accompanied by a 150-member trade delegation, arrived in Beijing on Sunday afternoon, starting an official visit to China as guest of Wen.