China's top banker refused to rule out the possibility of further interest rate hikes on Thursday, while pledging to be cautious in using this monetary tool.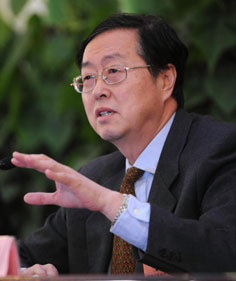 Zhou Xiaochuan, governor of the People's Bank of China, answers questions during a press conference in Beijing, March 6, 2008. [Xinhua]
"There is definitely room for further increases, in my personal opinion," said Zhou Xiaochuan, governor of the People's Bank of China, the central bank, at a press conference on the sidelines of the annual session of the country's top legislature.
However, regulators have to weigh the advantages against the disadvantages before taking such a move, Zhou said. "The timing and the scale of the adjustment are also an art."
Zhou admitted that the recent aggressive rate cuts in the United States are restricting his agency's ability in raising the cost of capital.
The opposite direction in interest rate movements in the two countries is expected to attract more hot money into China, complicating the country's efforts to keep its economy from overheating and tame inflation.
"This is just part of the influences, and we also have domestic considerations," he said, pointing to the boost of domestic consumption and the development of the capital market.
China has been endeavoring to spur the Chinese to spend more so as to reduce its over-reliance on investment and exports for economic growth.
"We have to consider and measure the impact of interest rate changes on domestic demand," Zhou said, adding that regulators hope to cut savings rate, which stays high in the country. In theory, a lower interest rate will help push the consumers to increase consumption.
Interest rate policies will also affect the development of the capital market, as well as the proportion of direct financing, Zhou said.
When the interest rates are low, the citizens tend to look to the capital market for attractive products, thus helping adjust the proportion between direct and indirect financing, Zhou said. "The country should redouble its efforts in developing the capital market and encourage direct financing."
Premier Wen Jiabao pledged to follow a tight monetary policy on Wednesday in his policy speech to keep inflation in check and prevent the economy from overheating.
The Consumer Price Index, a barometer of inflation, jumped an 11-year high of 7.1 percent in January on rocketing food prices. The world's fourth largest economy expanded 11.4 percent last year, the sixth consecutive year of double-digit growth.
In response, the central bank raised interest rates six times and the bank reserve requirement 11 times since the start of 2007.