A slight drop in share prices today cleared all doubts about the last trading day for China's stock market this year. Nevertheless, when the bell rang at 3pm at stock trading halls, Chinese investors celebrated the perfect close to a spectacular year for the market, and set expectations high for a promising new year - the year of 2008.
The following is a brief summarization of the remarkable achievements of the world's fourth-largest stock market, whose market value hit 32.9 trillion yuan as of yesterday.
1. Market scale expansion
a. Indices
The Shanghai Composite Index, tracking the bigger bourse of China's two stock exchanges, started from 2,675 at the end of last year and closed at 5,261 today, a 97 percent growth, driven by enthusiastic investment from individual and institutional investors from home and abroad. On October 16, it hit 6,124 during the trading session and closed at 6,092, as the highest level it has touched and closed in the history of China's stock market (See Chart 1).
Chart 1: Shanghai Composite Index Dynamics 2007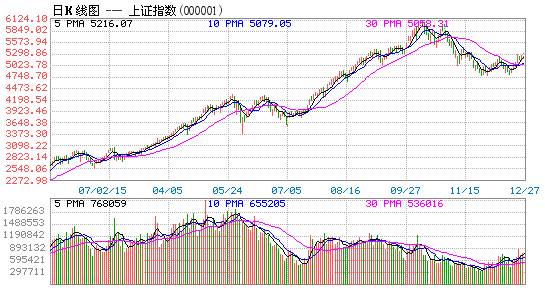 The Shenzhen Component Index, tracking the smaller Shenzhen exchange, rose 1.6 times higher this year. It closed at 19,531, the highest for the day and this year on October 31.
The CSI300 Index, tracking the two bourses' 300 best stocks, moved from 2,041 points last year to 5,338 as of today, an increase of 1.6 times. It reached its highest of 5,885 on October 16 and closed at record high of 5,887.
b. Trade volume
Trading in the stock market was active this year as stocks totaling 45.9 trillion yuan changed hands, compared with 9 trillion yuan last year (See Chart 2).
Chart 2: Transaction value (unit: trillion yuan)