WASHINGTON -- US Democratic presidential candidate Barack Obama on Sunday stepped back from a pledge to halt US imports of Chinese-made toys because of safety concerns.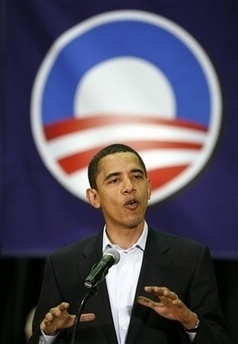 Democratic presidential hopeful Sen. Barack Obama, D-Ill., speaks to local residents during a campaign stop, Sunday, Dec. 23, 2007, at Nodaway Valley High School in Greenfield, Iowa. [Agencies] 
Instead, the Illinois senator, who is in a tight race with Sen. Hillary Clinton of New York to win the Democratic presidential nomination, reiterated his longstanding call for barring toys with more than a trace amount of lead.
"Now, don't get me wrong: As president, I'll work with China to keep harmful toys off our shelves," he said in Greenfield, Iowa, according to a statement from his campaign for the November 2008 election, .
On Wednesday, Obama had told voters in New Hampshire: "I would stop the import of all toys from China," which supplies about 80 percent of US toys.
A spokesman for Obama, Josh Earnest, said the candidate had been referring in New Hampshire to banning "toys that contain more than a trace level of lead, coming from China or anywhere else."
Starting in 2005, Obama has worked on legislation in Congress that would require the Consumer Product Safety Commission to classify any children's product containing lead as a banned substance under the Hazardous Substances Act. His effort has yet to become law.
There is no single US standard for lead content in toys, and the Consumer Product Safety Commission primarily works by recalling toys after they have been found to be unsafe, according to the American Academy of Pediatrics. Obama has complained in the Senate that the agency has dragged its feet on protecting children from lead.
In his remarks to the Iowa audience, Obama said as president he would require independent testing of toys before they reach US stores. In addition, he said he would boost penalties on companies that break the rules.
Scandals involving imported products ranging from toothpaste to pet food and fish have added to controvery in the United States about Chinese-made goods. Beijing has acknowledged some problems but insists foreign media have hyped the issue.
If elected, Obama said he would double the funding for the Consumer Product Safety Commission. His campaign said Obama would make sure the commission "has the inspectors it needs to ensure that the goods we're buying are safe."