The People's Bank of China says it will start taking special deposits again from December 27, according to Tuesday's Shanghai Securities News.
The special deposit includes two terms of three-months and one-year with an annual interest rate of 3.37 and 3.99 percent respectively, said the central bank.
Special Coverage:

Interest
Rate Hike
Related readings:

 China tightens short-term corporate borrowing


 Central bank to further check excess liquidity, inflation


 Excess liquidity surpasses expectations
And the special deposit targets rural credit cooperatives and city commercial banks excluding primary dealers in the open market. The central bank also says the special deposit adopts voluntary declaration of quotas.
It is the second time that the central bank has allowed such deposit in the past 20 years, and the first time took place in October this year.
The special deposit is a form of deposits where the central bank will pay interests for the funds from financial institutions, which is an effective way to mop up liquidity.
Experts familiar with the matter said the reopening of the special deposit shows the central bank's determination to carry out a tighter monetary policy.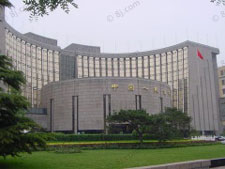 The central bank will on December 25 raise the reserve requirement ratio by 1 percentage point to 14.5 percent, the highest since China unified reserve requirements more than two decades ago.
The hike is in line with "the requirement by the Central Economic Work Conference to tighten monetary policy, strengthen the banking system's liquidity management and rein in unduly fast credit growth," said the People's Bank of China in a brief statement on its website.
China's broad money supply, including cash and all deposits, reached 39.42 trillion yuan ($5.3 trillion) by the end of October, up 18.47 percent year-on-year, 1.53 percentage points higher than the end of last year.
The increasing liquidity has led to fast investment growth and exacerbated price rises. In October, the consumer price index reached 6.5 percent, matching a decade high in August. It is widely expected to further rise in November.
At a high-level central economic conference closed in December, top policymakers decided to adopt a "tight" monetary policy from "prudent" to prevent the economy from overheating and price hikes from evolving into even higher inflation.