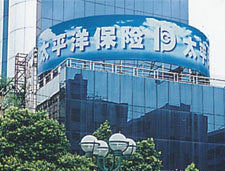 China Pacific Insurance (Group) Co. Ltd, (CPIC), one of the country's top insurers, could net up to 30 billion yuan (4.08 billion US dollars) from its initial public offering (IPO), which runs from Thursday to Friday on the Shanghai Stock Exchange.
The price range of its A-share IPO was set at 27-30 yuan after a road show that ran from December 7-11 in Beijing, Shanghai, and the southern cities of Shenzhen and Guangzhou, CPIC said in a notice published in the China Securities Journal, a newspaper run by Xinhua News Agency.
The price range translated into a price-to-earnings ratio of 28.06 to 31.18 times. All proceeds from the IPO will be used to increase CPIC's capital to boost its growth, said the paper.
The newspaper said 350 million shares of the offer would be open to offline subscriptions from institutional investors from Thursday to Friday within a range of 27-30 yuan. The remainder will be offered online to  individual and institutional investors on Friday at 30 yuan.
"Demand for the one billion shares was strong amid positive earnings expectations and growth potential for the insurer, because the domestic insurance market is expanding quickly and CPIC has a good sales team and network," an analyst from China Life, who asked not to be identified, told Xinhua.
Founded in 1991, CPIC ranks third in China'sales employees working s life insurance market, with a share of 9.5 percent and 185,000 in 3,270 sub-branches.
The insurer ranks second in the property insurance market, with a share of 11.6 percent and a team of about 10,000 sales representatives in 2,009 sub-branches.
Analysts predicted the shares would start public trading at the high end of the IPO price range, as did the shares of major companies that recently listed, such as China Construction Bank, Shenhua and PetroChina.
CPIC will become the third Chinese insurer to be listed on the A-share market, joining China Life and China Ping An. CPIC will issue no more than 900 million H-shares on the Hong Kong Stock Exchange after making its debut in Shanghai.
China International Capital Corp. and UBS Securities Co. are the lead underwriters.