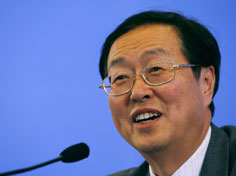 China's Central Bank governor Zhou Xiaochuan answers a question during a news conference at "The Third Strategic Economic Dialogue" Beijing December 12, 2007. [Agencies]
China's central bank governor, Zhou Xiaochuan, said on Wednesday that surging domestic consumer prices and recent US interest rate cuts would have "considerable influence" on Chinese monetary policy.
The central bank, the People's Bank of China (PBOC), would "seriously consider" the situation, added Zhou.
Zhou made the remarks at a news briefing on the sidelines of the Third China-US Strategic Economic Dialogue (SED) held in Beijing. The two-day event began on Wednesday.
Increases in the consumer price index (CPI) had been mainly driven by soaring food prices, Zhou said. Whether and how the CPI could be curbed through monetary policy was being studied, Zhou said, admitting that the issue could be contentious.
China's consumer price index (CPI) for November rose 6.9 percent from a year earlier, according to statistics released from the National Bureau of Statistics (NBS) on Tuesday morning.
The figure showed that inflationary pressures were persisting, and it triggered concern about further tightening measures.
As to the recent interest rate cuts by the US Federal Reserve, Zhou said China concerns the possible indirect impact on the country, which already had excess liquidity in the capital market.
The governor also said that China backed a strong dollar and would back US efforts to recover from the sub-prime credit crisis.