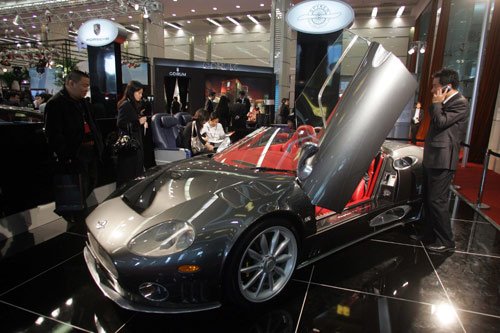 One of the most expensive automobiles at the Top Marques Shanghai 2007 attracts car lovers at the city's international convention center yesterday. Many high-end brands were making their mainland debuts at the event. [China Daily]
SHANGHAI: With an air of prestige dressed in a stylish Chanel suit, Vivian Song struts through the Shanghai International Convention Centre contemplating how much money she could blow.
The entrepreneur from Ningbo, Zhejiang Province is at Top Marques Shanghai 2007, an exclusive showcase of high-end luxury products, many of which are being shown in China for the first time.
Related readings:



 More wealthy families


 Fines raised on wealthy flouters of family planning laws


 Young wealthy Chinese favor luxuries


 'Original sin' of a wealthy entrepreneur
Nearly 300 premium goods are on display, including an Aston Martin DB9 racing car made famous by James Bond 007, two super-luxury yachts from Italy dubbed the "Porsche on the water", antique furniture and oil paintings from the 17th century, a diamond watch worth 6 million yuan ($808,000) and a Swedish-made Hastens bed mattress worth 800,000 yuan.
"Price is no object," Song said.
"Fancy cars, diamonds and antique furniture are the things I most eagerly want to see as they are rare on the domestic market. If I'm fond of it, I will buy it."
Though she politely declined to reveal her personal wealth, Song could be considered one of China's rich and privileged, since she claimed to have snapped up a pricey diamond watch and pearl necklace at last year's exhibition.
China's richest 800 people are worth an average $562 million each, according to the yearly Hurun Report.
And China has become the world's third largest consumer of high-end fashion, accessories and other luxury goods, following Japan and the United States.
And it seems the rich in China aren't shy about splashing out on expensive toys.
"They are eager to spend their way up the social ladder," organizer Sheng Lei, managing director of Shanghai Borrison Expo Co Ltd, said.
"In addition, the next generation of Chinese entrepreneurs, who are often educated abroad, want a high quality of life. All these factors drive the luxury goods market in China, which is expanding rapidly."
Sheng first brought the exhibition to Shanghai in 2005, and it mirrors the original show from Monaco.
And it has become a success story, Sheng claimed.
"The value of transactions during the exhibition last year reached 500 million yuan, double that a year ago," he said.
"We expect more this year."
The exhibition is open only to invited VIP guests during the first three days.
Some 12,000 people, most of whom are entrepreneurs from Shanghai and its neighboring provinces, are expected to attend.
Organizers expect the most anticipated highlight to be the opportunity to sit behind the wheel of the luxury Supercar, and tours of the "super yachts".
"It is the first time in China that the yachts, which cost between 30 million yuan and 50 million yuan are available for experience tours," Sheng said.
But there are definite restrictions to boarding the prized boats.
"During the four-day show, only 60 super-rich visitors who express legitimate intentions to purchase a yacht of this kind are allowed to have a tour on Huangpu River," Sheng said.
Not limited to cars and boats, the exhibition also features luxury real estate, wine and cigars, electronic gadgets, travel and goods for the home.
Liu Zhuo, a representative of the Swedish-based bedding manufacturer Hastens said the luxury brand sold well at the exhibition last year.
"The exhibition offers a great opportunity for us to meet more potential customers," Liu said.
Hastens mattresses cost up to 800,000 yuan.
(China Daily 11/15/2007 page3)