After a stormy anti-corruption campaign and regulatory personnel reshuffles last year, China's healthcare industry seems to have emerged from the dark clouds to become a hot focus of investors from both home and abroad.
"China's healthcare spending will grow dramatically with continued GDP growth," says Norman Chen, partner from venture capital firm FAV.
"By 2010, China will be the world's sixth-largest healthcare market with industry turnover surpassing US$27 billion. Obviously, it is not about whether we should put our money in this area but time to think of which part of the sector we should invest in."
China's rapid economic growth, which has averaged 8 to 9 percent annually since 1978, is enabling ordinary Chinese to spend more on healthcare.
As well, the unprecedented demographic transition brought by decreasing birth rates and an increasingly elderly population has also resulted in a boom in the number of hospitals, pharmaceutical companies and medical equipment manufacturers in the country.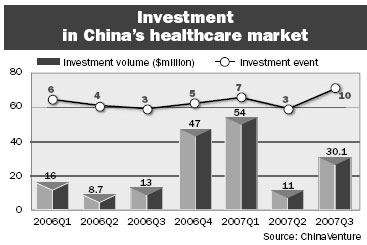 According to domestic research firm ChinaVenture, venture capital investment in China's healthcare market reached US$31 million in the third quarter of this year, an increase of nearly 200 percent over US$11 million in the second quarter.
The flow of capital into Chinese healthcare companies has also resulted in an unprecedented number of initial public offerings (IPOs) by healthcare companies.
In the first 10 months of this year, seven Chinese healthcare companies were listed in overseas stock markets, a significant jump from four listings a year earlier, according to Zero2IPO, a local researcher on the venture capital market.
Li Ying, secretary of the China Association for Medical Devices Industry, says "Chinese pharmaceutical companies and medical equipment companies are striving for expansion, but often face bottlenecks in investment, research and development abilities and management experience."
She notes that the involvement of venture capitalists, which often bring with them expertise in management, financing and marketing, can help Chinese healthcare companies to grow in line with the country's booming market.
Although optimistic about China's healthcare companies, investors say that risk certainly exists, especially in pharmaceutical companies.
"We are especially wary when evaluating investment in new drug research," says Zhang Suyang, partner from IDG VC.
"Drug research, unlike healthcare services and medical devices, is a highly professional area that only a limited number of experts fully understand. It is a challenge for fund managers like us."
Zhang's remark was echoed by a researcher from Merrill Lynch.
"According to our observations, there are six Chinese pharmaceuticalcompanies listed in the United States, but their price-to-earnings (P/E) ratios are much lower than companies providing medical equipment and services in China," says the researcher who declined to be named.
He says it is partly due to the perception by investors in the US that the patent power of the Chinese pharmaceutical companies is not strong enough to sustain growth of new drugs in the international market, which means they are more likely to be involved in legal issues in countries like the United States or in Europe, where patent laws are strict.
A P/E ratio is the relationship of a company's share price to its earnings used to evaluate its value for money.
Norman from FAV contents investment in Chinese pharmaceutical companies should be "extremely careful", but adds Chinese companies have its some advantages in new drug research.
"China has a more efficient new drug approval system and is more cost-effective in undertaking experiments and recruiting volunteers, which is a huge plus," he says.
In the US, it often takes 10 to 15 years and US$600 million before a new drug is approved. But in China, it needs an average of five years and 50 million yuan, according to industry estimates.
"Whatever challenges or opportunities, China's healthcare market is just in its inception," says Zhang from IDG VC.
"It's like the time of gold rush - many people who panned for gold failed, but people who sold them drinking water made the wealth," he says.

"I think in China we may first need to fund those who sell the water."