Basic medicare for all rural residents by 2010 promised
(Xinhua)
Updated: 2007-11-03 11:40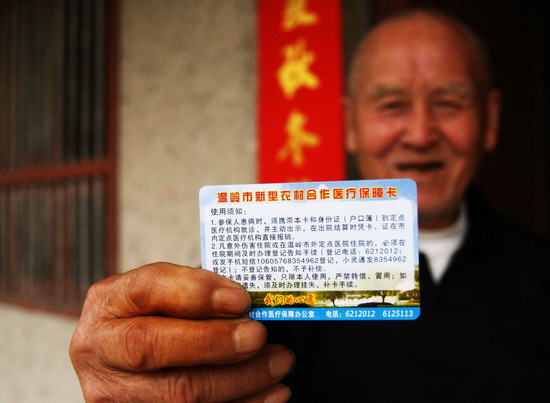 An old man in Wenlin, Zhejiang Province, displays his medical insurance card. China has promised to cover all rural residents with basic medicare system by 2010.  [newsphoto]
China has promised that its basic medical and health care system will cover all rural residents by 2010.

The Ministry of Health, on behalf of the Chinese government, made the promise on Friday at a two-day forum on China's rural health care services, organized jointly by the World Health Organization (WHO) and the China's Ministry of Health.

The government's investment will account for the main part of the fund for the system and the government will also encourage other public bodies and individuals to raise funds for the system.

The ministry said the government will increase investment in rural and remote areas. A three-level medical and health care system including the county, township and village will be built all over the country, the ministry said.

The government will ensure there is one public hospital for each township and one clinic for each village.

It promised to upgrade the medical care infrastructure in rural areas and continue to upgrade them in accordance with economic development so as to offer better services for rural people.

The government will also train medical staff to work in rural areas and build a long-term mechanism with urban areas supporting rural areas.

Currently, the cooperative medical care system is the main system in rural areas.

Under this system, subscribers are funded at a level of 50 yuan per person - 20 yuan from the central government, 20 yuan from the local government and 10 yuan from the individual.

This year, the central government allocates 10.1 billion yuan (US$1.346 billion) for the system, 5.8 billion yuan more than last year.

By the end of last June, the cooperative medical care system in rural areas, initiated in 2003 to offer farmers basic health care, covered 720 million rural residents, or 82.8 percent of the country's rural population, ministry statistics show.