Wei Liling bought her second apartment just at the right time. The 56-year-old pensioner secured a mortgage to buy the property in the capital of Sichuan Province early last month.
"I did it before the government said it would raise the down payment for mortgages in late September. I wouldn't have been able to raise enough money to cover a deposit on a second apartment if that policy had come through a month earlier," she told China Daily.
On September 27, the People's Bank of China and the China Banking Regulatory Commission announced a rule requiring second-home buyers to pay a down payment of at least 40 percent, up from 30 percent, with a 10 percent premium on the interest rate.
For third and fourth properties, the down payment and interest rate is now even higher - rates are determined by commercial banks.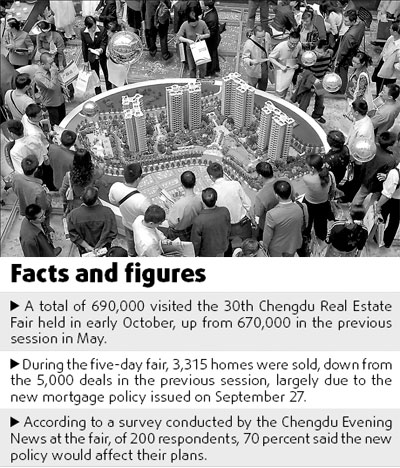 The policy has made many in Chengdu think twice before they take the plunge, according to the Chengdu Real Estate Management Bureau.
The bureau released figures last week from the city's 30th real estate fair. During the five-day fair, 3,315 homes were sold - a significant drop from the 5,000 deals made at the fair held over the May 1 holiday this year. But visitor numbers increased to 690,000 at the recent fair, up from 670,000 in May, the bureau said.
Many visitors wanted to find out about market trends rather than buy homes, said Feng Zongrong, a professor at Sichuan University's College of Economics.
The Chengdu Evening News surveyed 221 potential second- or third-home buyers at the fair. Of 200 respondents, 70 percent said the new policy would affect their plans.
Mao Yong, chairman of Chengdu Zhenghe Real Estate Consultancy Co Ltd, agreed with the survey results.
"At least 50 percent of them (homebuyers) are buying homes for the second time. The majority of second-time buyers take out mortgages to purchase property. So the new policy will affect at least 50 percent of homebuyers."
According to the Chengdu Evening News survey, 70 percent of respondents delayed plans to buy homes or chose to go for something smaller because they couldn't afford the higher down payment.
Office worker Yu Meizi owns a 47-sq-m apartment. She had planned to buy a larger flat to live in with her parents, but she's having second thoughts because of the new policy.
"I only recently managed to raise enough money to cover the 30 percent down payment. The new policy has forced me to rethink my plan," she said.
Xiao Ling, a teacher at the Chengdu No 4 Kindergarten, has a 50 sq-m apartment. Xiao said she will have to sell the apartment to raise enough money for a deposit on a larger home when she has a baby and her parents move in to help her.
"I was hoping to keep the first apartment and take out a mortgage to buy a new, larger one," the 29-year-old told China Daily.
The policy might be having a negative impact on average homebuyers like Yu and Xiao, but high-income earners like Zhou Lin are largely unaffected.
Zhou is an entrepreneur in the fashion industry. She owns a villa and plans to buy a town house. "Who would mind paying a little more for the deposit when you can afford to buy a villa?" she said.
Many real estate developers kept their sales centers open late for two days after the new policy was released so that buyers could sign new contracts and take out mortgages before the policy kicked in on October 1.
The last buyer left Rongshangfang Real Estate's sales center at 2 am on September 29 after signing a contract.
"On September 28 and 29, the company signed more than 200 contracts with people who had applied for mortgages to buy houses," said Wu Xia, a saleswoman at Rongshangfang Real Estate.
Most of the city's developers are optimistic about the role the new policy will play in regulating the overheated property market.
"We're not worried about sales. More people are buying homes for the first time - and for the second time. And people from outside Chengdu also want to buy homes in the city," said Wu Wenjun, chairman of Gold Fleet Real Estate Development Co.