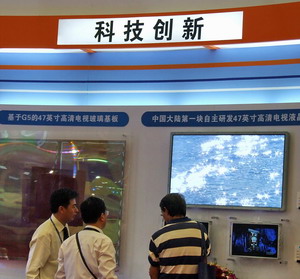 Visitors gather before a tech innovation booth at the Shanghai Industrial Fair in November 2006. Innovation is to play a leading role in motivating China's fast economic growth, an economist said. [newsphoto] 
China's largest city Shanghai posted a GDP growth of 13 percent based on a rise of 9.6 percent in fixed assets investment in the first half of 2007, thanks to the strategic adjustment of economic structure, statistics from the municipal government show.

The tertiary industry contributed more than 50 percent of the city's total GDP in the first six months, a rise of 14.1 percent from a year earlier.


Technological and systematic innovation is to play a leading role in motivating fast economic growth, the first time since China adopted the opening up policy nearly three decades ago, said Chen Xian, an economist with the Shandong Provincial Academy of Social Sciences.

In the past years, many places in China achieved economic growth driven by increase in investment and resources consumption, which caused great pressure on the environment.
China has made it a strategic task to build a resource-conserving and environment-friendly society to achieve economic and social development.

East China's Shandong Province has given priority to the development and manufacturing of 100 kinds of products during the 11th five-year program period (2006-2010), with the purpose of boosting advanced manufacturing industries such as electronics information, bioengineering and new materials, among others.

The provincial government earmarked 250 million yuan (US$33 million) to finance the first batch of 62 programs involving industrial adjustment in 2006 to boost technological innovation in local enterprises.

The Shandong-based electronic firm Hisense developed the second generation of a digital video transact chip "Xinxin", the application of which reduced the annual production cost by more than 20 million yuan.

Hisense is the first Chinese mainland TV producer to master core technologies and possess proprietary intellectual property rights.

With more core technologies in hands, local enterprises in the Pearl River delta in south China have contributed significantly in optimizing the structure of local industries.

Guangdong Province, known for fast economic growth driven by labor-intensive and light industries in the early 1990s, has entered a new round of development, with auto making, petro-chemical, ship-building, iron and steel, and information technology industries becoming new forces driving local economic development.

Guangdong posted a GDP of more than 2.59 trillion yuan in 2006, ranking the first on the Chinese mainland.

Jiangsu Province in the east is also among the coastal regions which pursue fast economic growth via science and technology advancement.

The province's expenditure on science and technology development rose by 63.7 percent in the first half of this year, and currently more than 50 percent of its economy benefit from technology progress.

From January to May, the provincial government granted patent rights to 11,610 products, up 73 percent on last year.

"Pursuing economic development through innovation is a reflection of the scientific concept of development," said Zhang Weiguo, director of the Institute of Economics under the Shandong Provincial Academy of Social Sciences.

China has set a goal of raising the contribution to economic growth by science and technology advancement from 39 percent to more than 60 percent in 2020.