Sino-Ocean Land Holdings Ltd, the property unit of China's biggest shipping company, is seeking HK$11.9 billion in a Hong Kong share sale as real estate prices surge on the mainland.
The developer of residential, office and commercial properties in the northern Chinese Bohai Bay region will offer 1.55 billion shares, equivalent to a 36.6 percent stake, at HK$6.45 to HK$7.70 apiece.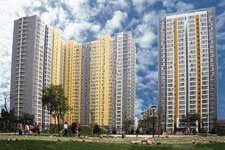 Och-Ziff Capital Management Group, a New York-based hedge fund manager, has agreed to buy US$30 million worth of the stock.
Property companies have raised US$3.9 billion in Hong Kong initial public offerings (IPOs) this year as housing prices on the mainland posted the fastest increase in almost two years.
"The market still has a lot of interest in property stocks because the mainland is still lagging in real interest rates," said Kenny Tang, a director of Tung Tai Securities Co in Hong Kong. "Mainland property companies' profit margins remain at very high levels, indicating demand is still strong."
Launching the IPO as late payments on US subprime loans sap international investor interest in risky assets, Sino-Ocean has reserved a combined US$240 million of shares for 10 corporate investors, including Och-Ziff and Hong Kong billionaire Lee Shau Kee. Lee is chairman of Henderson Land Development Co, Hong Kong's fifth-largest builder by market value.
Hong Kong individuals ordered about 170 times the amount of shares initially set aside for them in the IPO of Franshion Properties (China) Ltd last month. Appetite for the sale held up even after concerns about rising defaults in US subprime mortgages drove down Hong Kong's benchmark index.
The property unit of Sinochem Corp, the nation's largest chemicals trader, raised HK$3.81 billion in that share sale.
"Usually, if the market is not stable, players will tend to subscribe to IPO stocks because the selling pressure is much smaller," making them more likely to advance than stock in companies that are already traded, Tang said.