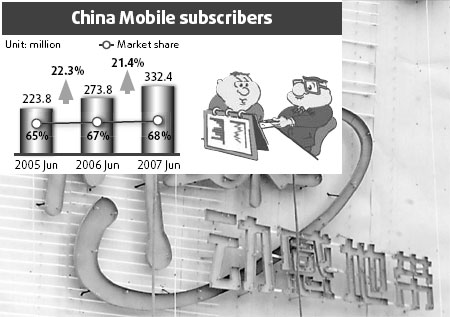 Of its three brands - GOTone, Easy-own and M-Zone - China Mobile has made M-Zone the most distinctive.
The brand's distinctiveness has made it popular with college and university students, but in secondary and third-tier cities with fewer universities, the number of M-Zone users is trivial compared with the other two brands.
Under the trend of lowering fee rates, M-Zone introduced a "music package" for its users in February, an attempt to associate the brand with youth culture. Its biggest selling point was the preferential fee policy.
The campus promotion of M-Zone was indeed successful in building the brand. Its promotion was once selected in the top 10 marketing cases of 2003.
But the fee rate that targets different groups of consumers was the real factor affecting users' choices. And the introduction of M-Zone's music package, breaking the brand-fee barrier, will help M-Zone gain a larger market share, especially in the second- and third-tier cities.
As early as 2005, when M-Zone was still trying to expand, many of China Mobile's local subsidiaries already realized the problem. Its promotion strategy outside of campuses was ineffective in markets with underdeveloped economies and few university students.
Compared with their foreign counterparts, China Mobile's three brands do not have full coverage and a specific market division.
Take South Korea's mobile operator SK as an example. The operator set up a TTLTING brand targeting middle-school students aged 13 to 18, a TTL brand targeting university students aged 19 to 24, a UTO brand targeting professional workers between 25 and 35, and a CARA brand targeting married women.
Lacking brands
China Mobile lacks brands specifically targeted at teenagers and women. Teenagers, in particular, are a coveted market, and it appears China Mobile still does not have a brand strategy for that segment.
Therefore, the M-Zone brand should be extended to cover the new market. The brand should also be used in a transitional role for M-Zone users to GOTone users. It is impossible for students to change mobile phone numbers immediately after they graduate.
M-Zone should therefore not limit itself to university campuses.
The M-Zone brand, on the one hand, has long been restricted as a campus brand, and on the other hand, market development and change of fee policies require the brand to extend its coverage.
It's a delicate balance. The solution lies in transforming the brand.
There are two key points for the transformation.