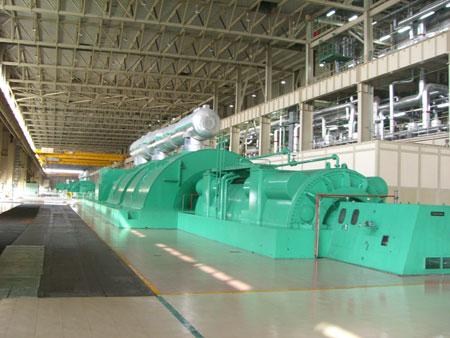 Large power generation units in the Beilun Thermal Power Plant [chinadaily.com.cn]


Picture a traditional power plant. Do you see dusty coal, chimney smoke, and other pollutants? The Beilun Thermal Power Plant (BTPP) in the Beilun new area of Ningbo, East China's Zhejiang Province, might make you rethink the industry.
Established in 1988, BTPP is one of the largest coal-fired power generators in China with a total power capacity of 3,000 Megawatt and two more 1,000-Megawatt ultra super-critical power units under construction.
Like other traditional fire power plants, BTPP faced mounting pollution problems as it grew. Leaders of the factory and local worked together to find solutions.
"Sufficient power supplies are indispensable for the development of Beilun District and its surrounding areas," said Wang Mingliang, an official from the government of the Beilun District of Ningbo. "Yet we cannot sacrifice the environment and people's health in pursuit of electricity. Instead, we are pursuing cleaner energy."
Due to strenuous efforts on behalf of researchers at the plant and help from the local government, BTPP is beginning to step toward "a green power plant."
To reduce sulfur dioxide emission in the power generation process, as early as 2004, BTPP began a fuel gas desulphurization project. By July of this year, all five power units of the plant had been upgraded and successfully passed trial operation of the project. As many as 89,000 tons of sulfur dioxide, a byproduct of power generation, will be transformed into profitable gypsum each year using a special chemical process, instead of becoming poisonous gas.
In addition to the desulphurization system, BTPP has also introduced a set of dust removal and slag handling systems to prevent floating dust and solid waste from polluting the environment. Moreover, the plant's subtle circulated water processing system has realized nil-drainage of waste water. At present, the plant is also engaged in the development of a denitridation system to rid oxynitride off the waste gas.
"The roof of my house used to be covered by a layer of black dust if it doesn't rain for long," said a worker who lived near the plant. "Now I'm glad to see the black layer is gone."
With the development of more environmental friendly industries in Beilun, greater benefits are on the way - fresh air, less chemical infiltration, and probably a healthier life.