Traditional savings-type life insurance is becoming less attractive as the interest rate hike as of July 21 takes effect this year. The soon-to-be-implemented interest tax reduction policy beginning August 15 may also affect demand, the Hangzhou Daily reported.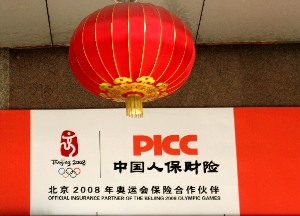 The People's Insurance Company (Group) of China's Huaibei branch in Anhui Province. Traditional savings-type life insurance is becoming lusterless as the interest tax cut will be implemented soon. [newsphoto]
The current ceiling on expected proceeds from savings-type insurance products is limited by the insurance regulator at 2.5 percent, while the current after-tax one-year deposit interest rate has reached 2.664 percent and will hit 3.1635 percent on August 15 as a result of the interest tax reduction from 20 percent to 5 percent.
Insurance insiders said that the China Insurance Regulatory Commission (CIRC) is speeding up plans to bring expected proceeds more in line with market trends. Some insurers have answered the policy by lowering long-term insurance policies' premiums, in an effort to improve competitiveness.
PICC Health Insurance Co Ltd, for example, recently launched two insurance policies featuring lower premiums. According to Wu Lijun, head of personal insurance section of the insurer's Zhejiang branch, the premium reduction is due to consideration of lower costs as high cure rate of some major diseases and interest rate hike expectations.
"Interest rate hike and interest tax reduction will have impact on some bancassurance products, but long-term life insurance policies focus on coverage and not yields," Xie Weiran, vice general manager of Pacific Life Insurance Co Ltd's Zhejiang branch.
He also said the interest rate hike is not bad news for the insurance sector, but instead will help it operate more reasonably in the capital market.