China's pork prices continued to rise this month, but that factor alone will not significantly push up the consumer price index (CPI), analysts said.
The price of fresh boneless pork rose 12.3 percent from May 21 to June 20 to 19.56 yuan per kilogram, the National Development and Reform Commission (NDRC) said in a statement on its website.
The NDRC conducts a monthly survey of prices for 46 major goods and services in 36 cities. The latest survey found a 0.1 percent drop in egg prices.
Ministry of Agriculture statistics also pointed to strong pork price rises.
Monitoring of wholesale pork prices in 40 major markets across the country showed that the highest price reached 20 yuan per kg yesterday, with the average at 16.8 yuan per kg, 29 percent higher than in April.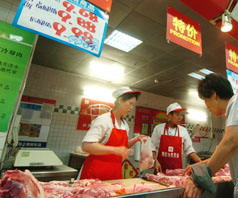 "It is hard to ease the tight supply in the short term, and so pork prices continued to rise significantly," the statement said.
Rising prices for grain used as feed and blue ear disease - also known as porcine reproductive and respiratory syndrome - which killed a large number of pigs nationwide last year dampened enthusiasm for raising pigs, analysts agreed.
"The high prices will continue for some time," said Zhu Baoliang, chief economist with the State Information Center.
"The situation may start to ease after two or three months," he added.
The latest round of price increases, which began late last year, and eight or nine more months would be enough for new supply to meet market demand, Zhu added.
And as prices continue to rise, many pig producers have regained confidence in market prospects and increased output, which will push up supply in the coming months, he said.
A rapid rise in pork and egg prices contributed to a rise in the CPI in recent months, reaching 3.4 percent in May, a two-year record high. Experts estimate that grain and food prices comprise about one-third of the CPI basket, with meat accounting for about 7 percent.
Despite rising pork prices, that alone will not increase the CPI, said Hu Shaowei, an economist from the State Information Center.
"Prices of many other products, such as eggs, have dropped by different margins, which will ease CPI pressure," he said.
(For more biz stories, please visit Industry Updates)