China's macro economic climate index stayed at 114.7 points in May, in the stable range, according to a report published by the National Bureau of Statistics (NBS) yesterday.
Statistics from the NBS show that China's economic climate indexes have been in the stable range over the past 13 months.
According to the country's monitoring signals of macro economic climate index released by the NBS, China's fixed assets investment, consumer goods retail sales, import and export, profits of industrial enterprises, financial institutions loans, money supply, and consumer price index (CPI) were all in the green light zone in May, namely a stable range.
China's industrial production index and fiscal revenue were in the yellow light zone, which means a little heated.
The disposable income of residents was in the red light zone in May, the same as in April, signaling overheating.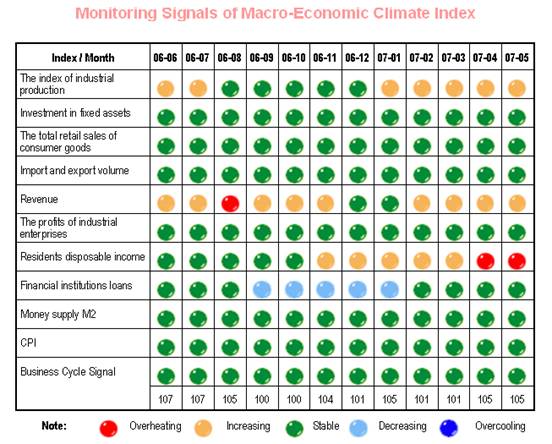 (For more biz stories, please visit Industry Updates)