Dalian is looking to increase its software exports almost eightfold to $3.5 billion by 2012, a senior city official said.
"We will strive to become the most important outsourcing powerhouse not only in China, but also in the world," said Dai Yulin, vice-mayor of the costal city of Northeast China's Liaoning Province.
To meet that goal, the city looks to host as much as six software companies with annual sales of more than 1 billion yuan by 2012. Meanwhile, it will also cultivate three to five homegrown software exporters with more than 10,000 employees.
"By then, Dalian will have more than 150,000 software engineers, bringing in more than 40 billion yuan in software sales for the city," Dai said.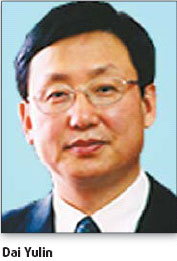 The port city, once famous for its shipyards and seaside tourist attractions, has in the last decade successfully turned itself into the capital of China's software and IT services industries.
In 2006, Dalian exported $450 million worth of software products and IT services, accounting for almost one-third of China's total $1.43 billion software outsourcing revenue, according to CCID Consulting, a Beijing-based IT consultancy.
"Our top priority now is to facilitate the growth of software companies in the city," Dai said. "We will further enhance our infrastructure and talent pool for that."
Presently, Dalian has more than 40,000 software engineers working for more than 600 outsourcing service providers, including 30 Fortune 500 companies.
A number of overseas giants such as IBM, Accenture and Hewlett-Packard have already set up shop in Dalian. US computer maker Dell is now relying on its call center in the city to provide services to its Japanese customers. And Fidelity International, a leading fund management firm, is planning to set up China's first foreign fund management back-office operation in Dalian.
Related readings:


Intel announces $2.5b chip project

Outsourcing to boost economy

Singapore to help build Dalian industrial park


Shenzhen Software Park targets Japanese outsourcing


Chengdu to focus on outsourcing industry

Some of these companies have mapped out aggressive expansion plans in the city. IBM hopes to expand a 2,000-employee offshore service center in Dalian into a facility with 20,000 staff within a few years.

"The greatest challenge for Dalian is still people. We will continue to enhance the training of software talent in the city and try to attract more talent from other parts of the nation," Dai said.

Local authorities have encouraged software companies in Dalian to cooperate with local universities to give outsourcing service training to students when they are still in school. IBM and Dalian University of Technology already have a relationship and a series of similar projects are appearing in the city.

Presently, the city's 22 universities and technical institutes churn out 6,000 software engineers per year, and that number is expected to reach 10,000 in two years.