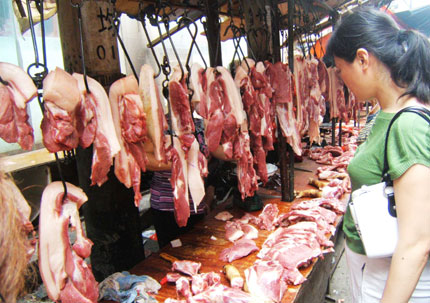 A woman customer buys pork at a market in Yichang, Central China's Hubei Province in this June 5, 2007 photo. The consumer price index rose 3.4% in May over the same period of last year, according to statistics released on Tuesday by the National Bureau of Statistics. [newsphoto]

China's inflation in May hit the highest level in 27 months on rising pork and food stuff prices, raising the pressure on the central bank to raise interest rates.
The Consumer Price Index (CPI), a barometer of inflation, rose 3.4 percent compared with the same period of last year, the National Bureau of Statistics said Tuesday, beating the three percent target set by the People's Bank of China for this year.
The increase, after a 3.0 percent rise in April and a 3.3 percent growth in March, was mainly driven by surging grain and pork prices.
Pork prices climbed 43 percent year-on-year in the first three weeks of May, according to official figures released earlier. Food accounts for a third of the consumer price index and meat for seven percent.
The newly-released figure makes May the fourth straight month that saw inflation outpace the benchmark one-year deposit rate, eroding people's purchasing power and making the case for an interest rates hike.
Special coverage:
Chinese Economy

Related stories:
Inflationary pressure picks up in May
Pork price drops, egg price keeps rising
Price of pork flies to new high
Consumer price rise slows to 3% in April
Last week, central bank governor Zhou Xiaochuan said he was "closely" monitoring the rising food costs and will study May's CPI data before any interest-rate change.

"Inflation is breaching the target and putting pressure on the central bank to raise the rates," said Bank of China (Hong Kong) Ltd economist Michael Dai in an interview with Bloomberg News. He expects the central bank to increase interest rates twice more this year.

Tao Dong, chief regional economist for non-Japan Asia at Credit Suisse, believes another three hikes are needed to reduce inflationary pressure as well as to rein in soaring investment and property prices.

However, HSBC chief China economist Qu Hongbin and CITIC Securities analyst Chen Jijun disagree. They believe rates hikes will not help curb inflation as it is mainly caused by the tight supply of some commodities.

The central bank has raised interest rates twice this year, with the latest coming on May 19 when the benchmark one-year deposit rate was raised 27 basis points to 3.06 percent, while the lending rate for the same period was increased 18 basis points to 6.57 percent.

| | | |
| --- | --- | --- |
| 1 | 2 | |
(For more biz stories, please visit Industry Updates)