Google yesterday signed a deal with Chinese portal Sina.com, giving the US search engine a leg-up in its race to catch up with rival Baidu.com.
Under the terms of the agreement, Google will provide Web page search service for Sina.com. In return, Google will share the advertising revenue generated by traffic from China's most-visited portal.
Sina's own search engine, iAsk, which was earlier used to provide Web page service, will now serve only for vertical search, or specialized search, including news, photo, blog and mobile search, said Charles Chao, CEO of SINA Corporation.
The two companies also said they will expand their cooperation into news and other content areas.
Lee Kai-Fu, vice-president of Google and president of Google Greater China, said the strategic partnership with Sina.com is another example of Google's continuous localization efforts in the country, which will help more Chinese users know about Google's services and products.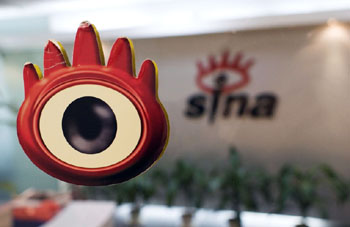 While Sina's ad revenue has been increasing, its non-ad revenue has plunged. [Bloomberg]
In China, Google is a distant second behind market leader Baidu. Its market share in the first quarter of this year reached 19 percent compared with Baidu's 58, according to Analysys International.
"Traffic is vital to all search engines, but it's not the most important for us," said Lee. "Our aim is to provide high-quality search services."
Since the beginning of this year, Google has deepened its activities in China. In the past six months, the company has forged alliances with China Mobile, China Telecom and China Netcom.
These partnerships, according to experts, has helped Google generate a huge amout of traffic for the company's Chinese website, Google.cn, which can translate into cash through Google's AdWords and AdSense programs.
Related readings:


Watchdog group slams Google on privacy


Info change sparks rumor of takeover

Sina posts 23% rise in Q1 profit

Sina.com to provide copyrighted music on line

In the first quarter of this year, Google's online advertising revenue reached $3.6 billion, an increase of 63 percent compared with the same period last year. The advertising growth rate in China, according to Lee, is "much, much higher".

"China's Internet market is becoming mature where every company has its focus and unique advantages," said Sina's Chao. "We'll need to adjust our strategy and make full use of our partner's unique advantages."

In the first quarter of this year, Sina saw its ad revenue increase 43 percent over last year to $31.8 million. But the company's non-ad revenue, mainly from search and other fee-based services, plunged 31 percent.