The leaders of governments and major companies have been put on notice that their efforts to save energy and reduce pollution will be key factors in their performance assessments, the State Council, or cabinet, officially warned yesterday.
Related readings:


 title
Efforts urged to curb energy consumption, pollution


 Non-fossil fuels to contribute 30% to energy consumption


 Include environment in plans: SEPA

 China plans satellites for environment
Energy efficiency and steps towards reducing pollution will be used to assess economic and social development in all localities, as well as the performances of government and company leaders, the State Council said in a circular.
These leaders will receive a negative performance assessment if they fail to achieve energy-efficiency and pollution-reduction targets, regardless of their achievements in other fields.
Last year, the government set a goal to reduce energy consumption per unit ofgross domestic product(GDP) by 20 percent and the discharge of major pollutants by 10 percent during the period of the11th Five-Year Plan(2006-10).
To meet the goal, the nation should have cut energy consumption per unit of GDP by 4 percent and discharges of major pollutants by 2 percent last year. But the country fell short of its targets, Premier Wen Jiabao said in his government work report to the national legislature in March.
Nobody has been blamed nor taken responsibility for the failure.
The "excessively fast" growth of the electricity, steel, nonferrous metals, construction materials, oil processing and chemical industries in the first quarter made it difficult to meet the goal, said the circular on the government General Work Plan for Energy Conservation and Pollutant Discharge Reduction.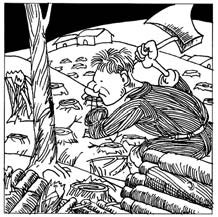 The six industries account for nearly 70 percent of the entire industrial sector's energy consumption and sulfur dioxide discharges, which grew by 20.6 percent in the first quarter, 6.6 percentage points more than the same period a year earlier.
China has paid "a huge cost in terms of resources and the environment" for its growth, and the people "have many complaints about environmental pollution", said the circular.
Meanwhile, greenhouse gas emissions have contributed to global warming and aroused great concern in the international community.
"If we fail to take immediate measures to reverse the situation, it will be difficult for us not only to make obvious progress in saving energy and reducing discharges this year, but also to reach the overall goal for the 11th Five-Year Plan period," the circular said.
To meet these goals, the State Council has issued the General Work Plan, which asks all local authorities, government departments and major companies to report their own detailed plans before June 30.