The stock market had another day of turbulent swings, with three 100-point instant dives and extensive battles around the 4,000 barrier. Just two days from Wednesday's 6.5 percent plunge, the Shanghai Composite Index, dropped 108.91 points to 4,000.74, down 2.65 percent today.
Total turnover on the main boards of the two exchanges was 340.5 billion yuan, slightly lower than that of yesterday.
The benchmark index opened higher from 4,120.63. Later with a series of sudden drops but few strong rides, it kept siding to lower stairs. Several turning-backs driven by heavy weight stocks didn't save the market on a whole from a losing mark. The 214-point spread between the highest 4,181.28 and 3,966.98 reflected a large volatility.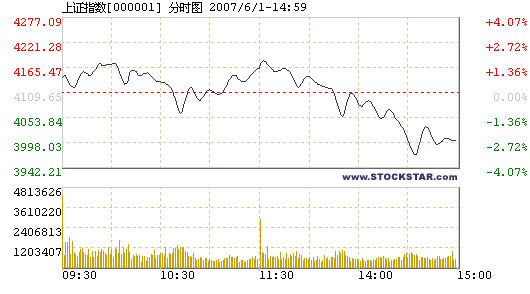 In the Shanghai market, prices of merely 99 stocks went up, 687 fell and 53 ended flat. Shandong Homey Aquatic Development was the top gainer, sealed with a maximum 10.04 percent rise to 12.82 yuan. Changchun Yidong Clutch and Wuxi Qingfeng also saw their share prices sealed at the maximum cap. On the other side of the table, Ningbo Bird led the fall by a 10.06 percent drop.
Share prices of the Industrial and Commercial Bank of China, with the largest trading volume, dipped 0.91 percent. But Sinopec, with the largest transaction value, surged 2.15 percent to 15.17 yuan, repeating yesterday's sharp rise.
Also opening higher, the Shenzhen Component Index ended at 12,432.69, down 511.54 points or 3.95 percent. It went through the day within a range between 12,325.21 and 13,185.59. Of its A shares, 54 closed up, 484 went down and 73 ended flat.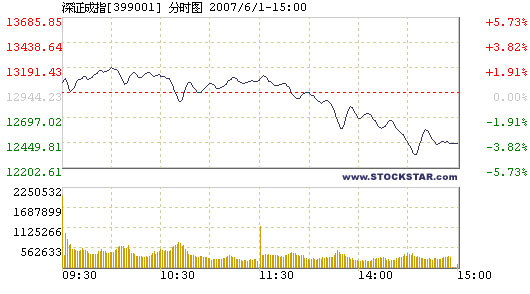 Shandong Dong-e E-jiao, resuming trading today from share reform, saw a 63.38 percent rise to 28.2 yuan as the leading gainer in Shenzhen. Cangzhou Mingzhu Plastic and Guangdong Macro were also on top with 10 percent hikes, while Shanxi Jinye Science Technology and Education lost the most. China Vanke had both the largest trading volume and transaction value, with a 6.23 percent drop to 18.2 yuan.
Bank shares lost today: Bank of Communications, Shanghai Pudong Development Bank, China CITIC Bank and Bank of China all plunged, led by the Industrial and Commercial Bank of China, dragging the whole market down.
B-shares fell again, with only five stocks closing up among the total of 109. Of the gainers, Hainan Donghai Tourism Center (Holdings) was on top with a 4.91 percent price hike.

| | | |
| --- | --- | --- |
| 1 | 2 | |
(For more biz stories, please visit Industry Updates)