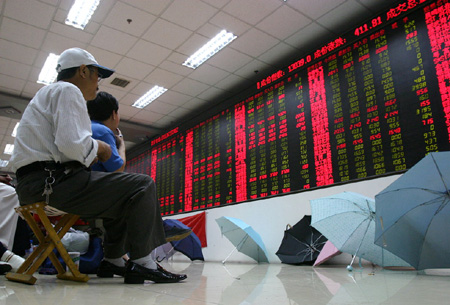 Investors monitor the screen at a securities hall in Beijing May 31. The Shanghai Composite Index rose 1.4  percent to close at 4,109.65 after the 6.5 percent plunge the day before. [newsphoto]
Chinese stocks opened lower today but closed at 4,109.65, up 1.4 percent after a "breath-taking" 150-point steep plunge in five minutes and later a series of strikes to the upper levels.
The Shanghai Composite Index opened from 4,006.28 and rocketed to 4,077.74 within minutes but soon turned around to slide quickly. After hitting the lowest 3,858.04 point around 10 am, it made a U-turn and started climbing. In the afternoon, the index climbed in waves to finish 56.57 points higher at the closing point. Today's spread between the lowest and the highest extremes was 320 points.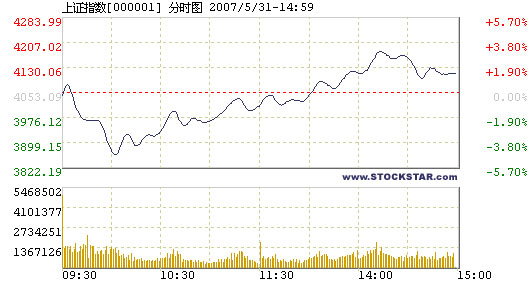 Total turnover on the main board of the two exchanges was 368 billion yuan, much smaller than that of yesterday.
In the Shanghai market, prices of 203 stocks went up, 576 fell and 61 ended flat. Jiangsu Sanfangxiang Industry was again the top gainer, sealed with a maximum 10.03 percent rise to 13.16 yuan in the morning and stayed there to the end. Laiwu Steel and Minerals Development also saw their share prices sealed at the maximum cap. On the other side of the table, Longjian Road and Bridge led the fall by a 10.05 percent drop.
Share prices of the Industrial and Commercial Bank of China, with the largest trading volume and Sinopec, with the largest transaction value, surged, by 3.01 and 10 percent respectively.
Also opening lower, the Shenzhen Component Index ended at 12,944.23, up 2.51 percent. It went through the day within a range between 12,020.95 and 13,110.26. Of its A shares, 136 closed up, 397 went down and 78 ended flat.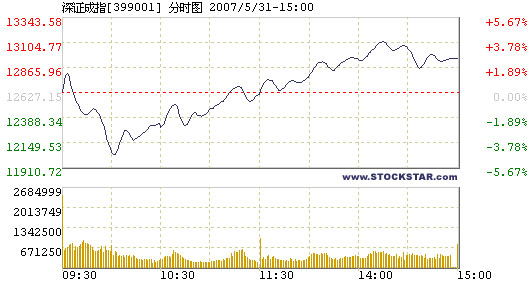 Guangzhou Friendship and Coship Electronics were the top gainers, while Shenzhen Textile Holdings lost the most at the Shenzhen market. China Vanke had both the largest trading volume and transaction value, rising 3.8 percent to 19.41 yuan.